New Virtual Rabbids Experiences to Debut at Bowl Expo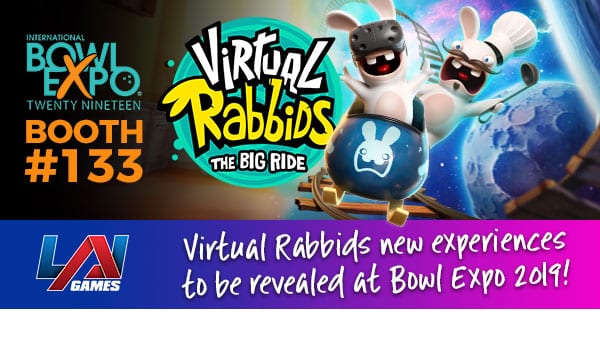 Dallas, June 19, 2019 – Leading game manufacturer LAI Games will introduce three much-anticipated new experiences for their hit VR attraction, Virtual Rabbids: The Big Ride at Bowl Expo next week in Las Vegas. BEC, FEC and arcade owners and operators will be able to try the new experiences for themselves for the first time at the show, with the new content available for purchase later this year as part of an upgrade kit. The upgrade kit will also include cabinet signage and marketing support materials to generate excitement and educate guests about the new content.
Like the original three, the new premium VR experiences take guests on a wild ride through three wacky worlds full of thrills and spills. Kitchen Catastrophe lets riders experience mammoth fun from a pintsized perspective as they drive a toy car to escape from a Rabbid Chef in his gigantic kitchen. Coaster Calamity is an extreme coaster adventure on a ride designed by the harebrained Rabbids, with breathtaking heights, hilarious drops and logic-defying twists and turns. Space Skirmish introduces a brand new interactive element to the ride, allowing guests to shoot at enemy targets as they speed through the galaxy to escape Robo-Rabbids!
Get a sneak peek at the new content at www.laigames.com/games/virtual-rabbids or stop by Booth 133 at the show to experience the new rides for yourself before they become available.
About LAI Games
LAI Games, a subsidiary of Helix Leisure, has been a leader in the interactive entertainment and game industry for over 60 years. The company develops, manufactures, and sells coin and card operated virtual reality, prize merchandising, video and ticket redemption games, photo booths and novelties. LAI Games is dedicated to bringing innovative and high incoming-producing games to the global market.
For more information, please visit www.LAIGames.com.
Follow LAI Games on LinkedIn for more updates: https://www.linkedin.com/company/laigames
---

Home | Vending Technology News | More News | Vending Newsletter sign up | Questions? Contact us | email press release
Call us at 1-800-956-8363 or POST YOUR COMPANY, GET NEW BUSINESS!