Munk Pack Sugar Free Keto Bars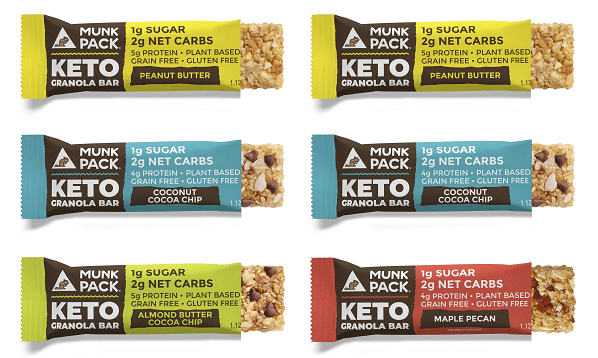 In today's world, more consumers than ever before are watching their diets and have the desire to eliminate as much sugar as possible from the foods that they're eating every day. With Munk Pack Keto Bars, consumers can enjoy a keto-friendly snack that will satisfy their hunger without loading their body with sugar.
Unlike some energy bars that are on the market today, Munk Pack Keto Bars don't contain any sugars and what's also ideal is that they are also gluten-free, plant-based and non-GMO as well.  Munk Pack Keto bars also don't contain any artificial colors, preservatives, or high fructose corn syrup. These keto bars also do not contain any soy, eggs, or trans fats either, so anyone who needs a healthy snack to curb their hunger without having to be concerned about what they are putting into their body. 
Founded by Tobias and Michelle Glienke, Munk. Both founders were inspired by chipmunks to create Munk Pack because they observed that chipmunks were selective eaters who eat a variety of things ranging from seeds, nuts, and fruits to grains.  Their goal was to create a snack that offers a balance of natural ingredients, and they've accomplished that goal with Munk Pack keto bars. 
A Variety Of Flavors To Choose From
Besides being better for you, these keto-friendly bars also come in a variety of flavors including Almond Butter Cocca Chip, Honey Nut, Coconut Coca Chip, Blueberry Almond Vanilla, Peanut Butter, and Maple Pecan.
Retailing for about $3.00 per 1.12-ounce bar, Munk Pack bars are sure to be a popular food, especially with your vending or micro-market customers that are searching for a nutritious snack, or meal replacement bar that they can enjoy anytime.
To learn more about Munk Pack bars, visit their website at http://www.munkpack.com, or email smile@munkpack.com.