Movie Photo Booths by Face Place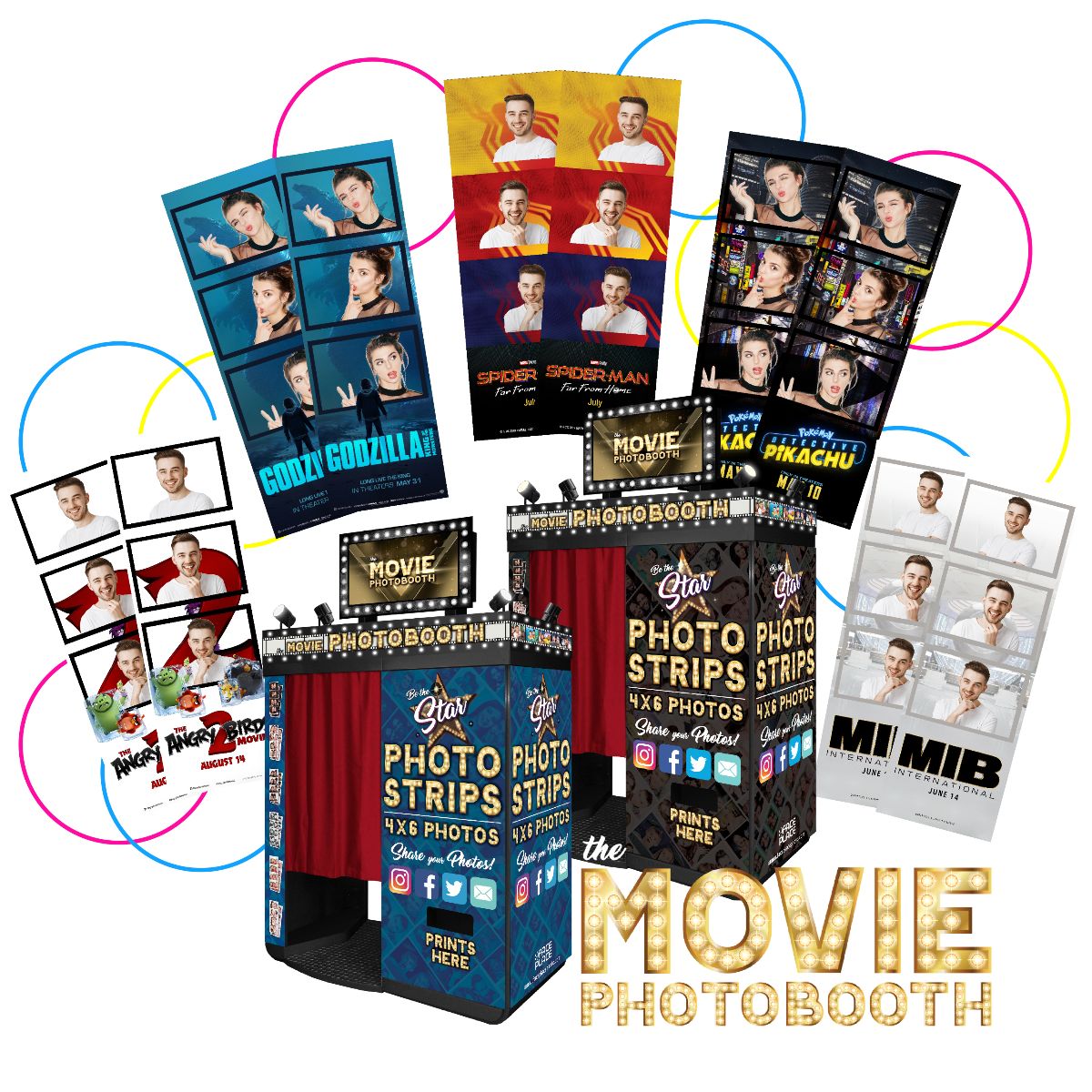 EXCLUSIVE LICENSING FROM HOLLYWOOD'S TOP STUDIOS
Movie lovers will be running to the new Face Place Movie Booth! With brand new films such as Spider-Man Far From Home, Men in Black International, Godzilla,  and much more. Entire families will start lining up to get their photos taken.
The Movie Scene Photobooth embraces green screen technology to deliver an interactive photo booth experience like never before. The selection of Hollywood blockbusters is constantly updated and provided by major Hollywood Studios such as Sony Pictures and Warner Brothers.
Offer your customers exclusive photo strips from such blockbusters as Angry Birds 2 and Pokemon: Detective Pikachu. The Movie Booth also takes advantage of our cutting edge Smile 2.0 Software that allows customers to share their photos on Facebook, Twitter, or by e-mail directly from the booth!
CHECK OUT SOME SAMPLES BELOW 
Your customers will be thrilled to capture a fun moment in your Movie Booth and cherish their beautiful photo as a keepsake!
MEN IN BLACK: INTERNATIONAL 
Considered to be one of the most highly anticipated films of the summer, Men In Black is back, and better than ever!
The Men in Black have expanded to cover the globe but so have the villains of the universe. To keep everyone safe, decorated Agent H and determined rookie M join forces to combat extraterrestrial enemy's.
Become a part of the movie with our exclusive photo strips!
POKEMON: DETECTIVE PIKACHU
Pokémon Detective Pikachu is now the most commercially successful movie to be based on a video game, grossing at nearly $500 million across the globe!Ace detective Harry Goodman goes mysteriously missing, prompting his 21-year-old son, Tim, to find out what happened. Aiding in the investigation is Harry's former Pokémon partner, wise-cracking, adorable super-sleuth Detective Pikachu.Become a part of the movie with our exclusive photo strips!
SPIDER-MAN:FAR FROM HOME
Sony and Marvel Studios' new addition to the Spider-Man collection has surpassed $1 billion mark at the worldwide box office, becoming the first installment in the franchise to do so!In Spider-Man: Far From Home, our friendly neighborhood Spider-Man AKA Peter Parker is off on a well-deserved break with his classmates. Don't miss the new sequel of Spider-man.Become a part of the movie with our exclusive photo strips!
THE ANGRY BIRDS MOVIE 2
Sony's all new movie based off of the most popular mobile game ever will premier August 16th!Red, Chuck, Bomb and the rest of their feathered friends are surprised when a green pig suggests that they put aside their differences and unite to fight a common threat.Become a part of the movie with our exclusive photo strips!
GODZILLA: KING OF MONSTERS
Following the legendary collection of Godzilla movies, 
Godzilla: King of Monsters
 fails to 
disappoint!
Members of the crypto-zoological agency Monarch face off against a battery of god-sized monsters, including the mighty Godzilla, who collides with Mothra, Rodan, and his ultimate nemesis, the three-headed King Ghidorah!
Become a part of the movie with our exclusive photo strips!
BENEFITS OF INSTALLING OUR PREMIUM MOVIE BOOTH
Photo booths have been a fun entertainment option for teenagers and families alike for years. But with the transition to everyone having a mobile phone in their pocket you might think that a photo booth seems old fashioned. With new technologies and easy connections to the internet, photo booths now offer great interactive possibilities to entertain guests and drive traffic.
With technologies like Smile 2.0, consumers can now print and share photos directly from the booth to Facebook, Twitter, Instagram and more. Additionally, there are now units in a variety of sizes so finding the right fit for your business is easy.
Our premium photo booths give your business the opportunity to create a new revenue stream,  Increase profit (quick return on investment), offer a fun experience to your customers and increase loyalty!
Hundreds of locations are already enjoying all the benefits
of having a FACE PLACE Movie Booth.
Order yours today!