MEGA BLASTER – ARCADE VENDING MACHINE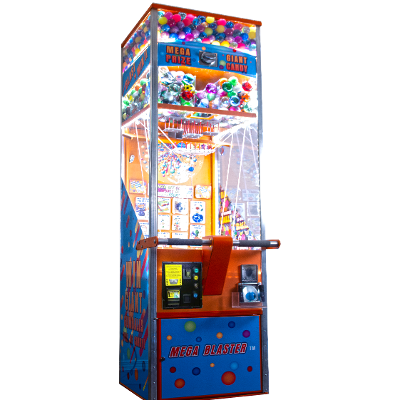 THE GREATEST MONEY MAKER EVER DEVELOPED FOR THE VENDING INDUSTRY  
Mega Blaster makes every kid and adult stop when they see it. Being completely different than anything ever done in this industry, there is huge novelty and alure for kids and adults to play! 
Mega Blaster is the only machine in the world that gives kids what they want while increasing your revenue: 
Candy! 

Playing games!

Winning prizes!
A great money-making choice, Mega Blaster is ideal for recreation zones, restaurants, convenience stores, waiting areas, gas stations, shopping malls, bars, cinemas and more. 
HOW MEGA BLASTER WORKS 
Mega Blaster is a simple machine, virtually maintenance free. The bungee cords are rated for over 300,000 launches. Your Mega Blaster comes with two extra sets so replacing the bungees can be done in seconds. 
Mega Blaster works 100% with the built in battery which operates the machine for up to 3 months with one charge. If an electrical outlet is available, the battery turns on automatically in the event of a power failure.  
Mega Blaster accepts $1, $2, $5, and $10 BILLS. For each dollar one mega jumbo bouncy ball loads onto the launch plate. Customers can load up to 10 bouncy balls for all to be launched at one time by inserting $1O. The more bouncy balls launched at one time, the better chance of winning a prize.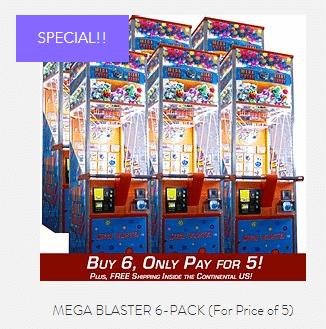 Built to Last! It is made of durable sheet metal and acrylic materials that will last for many years. A reliable battery-operated bill acceptor provides trouble-free operation. Mega Blaster's (patent pending) bungee system is good for hundreds of thousands of plays, AND, each machine ships with 2-extra sets. 
BATTERY OPERATED – NO ELECTRICITY REQUIRED! Battery keeps unit working for 3 months in one charge. Its built in, optional "plug to wall" capability allows Mega Blaster to function without ever recharging! 
Mega Blaster received extensive praise at the Amusement Expo International Tradeshow in New Orleans in March 2020 where people expressed excitement about its innovation and bringing something completely different to the industry as no one has something like this yet. 
Kids and adults alike LOVE playing this machine. The commotion, colors, and explosion of bouncy balls is a crowd pleaser! And every single play gets bouncy balls. Nobody walks away empty-handed! 
Mega Blaster is designed so kids, couples, and anyone can play together! Cooperative play is a great attractor for players, and parents! 
Mega Blaster is specifically designed to maximize your income AND your flexibility for placement. It's standard 26″x26″ (660mmx660mm) footprint is space-efficient as well! 
Balance in Engineering  
From the scientifically designed bouncy-balls with their rubber compound which strikes the perfect balance of bounce, mass, and size for perfect gameplay, to our prize packs which include amazing prizes and collectable consolation prizes; every detail of Mega Blaster is designed to attract customers, and to keep them coming back for more! 
Inventor Alan Guridi has seen his previous products sold in places like Walmart, Sam's Club, Sears, and many other retailers world-wide.  
For more information visit https://www.usamegablaster.com/
Contact Gerald Stansbury, gerald@usamegablaster.com,
Amazing Vending Machines Inc.
2800 Dairy Ashford
Houston, Texas 77082
Cell: (602) 319-4279
---

 Vending Technology News | More News | Vending Newsletter sign up | Questions? Contact us | SUBMIT PRESS RELEASE
Also see: Software Companies | Technology Companies | Micro Markets | Cashless Vending Solutions | Distributors | Classified Ads | Routes for sale | Vending Companies USA | VendLoco Lists | Home |
VENDING YELLOW PAGES DIRECTORIES:
Call us at 1-800-956-8363, POST YOUR COMPANY, GET NEW BUSINESS!