LAI Games Spearheads Project: Kickstart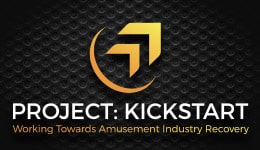 Dallas, June 18, 2020 – Premiere game manufacturer LAI Games has partnered with Firstlease along with multiple major U.S. game distributors on Project: Kickstart, an initiative aimed at helping locations get access to the latest high-income producing games as they continue recovering from COVID-19.
Project: Kickstart features a lineup of LAI Games' AMOA Innovator award-winners along with the IAAPA 2019 sensation Pearl Fishery, packaged in a range of flexible and accessible lease deals through Firstlease.
"We want to provide location owners with access to a lineup of top games that encourage customers to get back out and play," said John Bugh, SVP of Sales and Business Development. "COVID-19 brought the industry to its knees, and we're excited to be part of an opportunity that gives locations of all sizes the ability to put proven revenue-generating games in their locations."
Project: Kickstart features flexible lease options that include variable time frames and no money down, with 90 days deferred payment for qualified customers.
See the full lineup of games, with videos, game descriptions and specifications, pricing and a list of participating distributors at laigames.com/project-kickstart
About LAI Games
LAI Games, a subsidiary of Helix Leisure, has been a leader in the interactive entertainment and game industry for over 60 years. The company develops, manufactures, and sells coin and card operated virtual reality, prize merchandising, video and ticket redemption games, photo booths and novelties. LAI Games is dedicated to bringing innovative and high incoming-producing games to the global market. For more information, please visit www.LAIGames.com.
Follow LAI Games on LinkedIn for more updates: https://www.linkedin.com/company/laigames
---

Home | Vending Technology News | More News | Vending Newsletter sign up | Questions? Contact us | email press release
Call us at 1-800-956-8363 or POST YOUR COMPANY, GET NEW BUSINESS!