LAI Games Showcases New and Award-winning Games at IAAPI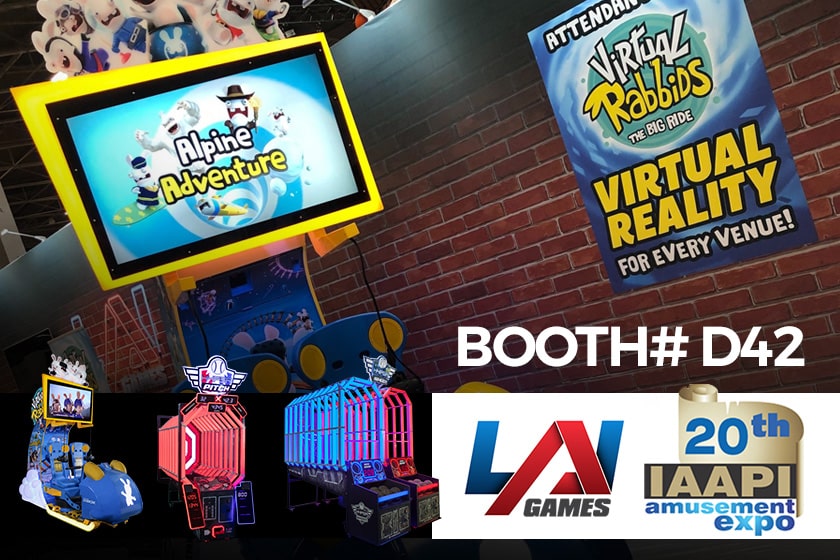 Dallas, February 20, 2020 – LAI Games continues their global world tour showcasing their 2020 game lineup with a stop in Mumbai, India for the IAAPI Amusement Expo. New games on display include HYPERpitch, a single or double-player ball-throwing game that is equally rewarding to play individually or with a friend. Each player gets three attempts to pitch a ball at the bullseye in a contest of speed vs accuracy. HYPERpitch features dynamic lights that chase the ball down the HYPER Tunnel while explosive sound effects create an incredible sensation of power as the ball hits the target. This ticket redemption game creates a social competitive atmosphere that draws a crowd and gets players lining up for their turn.
Also on display will be two AMOA Innovator Award-winners, Virtual Rabbids: The Big Ride and HYPERshoot. Virtual Rabbids is the mega-hit that proved unattended VR is not only possible but can be incredibly profitable and has brought top-quality VR to a wide variety of venues. HYPERshoot reinvents arcade basketball with an innovative game experience that is fun for all ages, plus a stunning HYPER tunnel that attracts onlookers.
Experience these amazing games for yourself at Booth# D42 at the IAAPI Amusement Expo February 26-28, or visit www.laigames.com for game videos and more!
About LAI Games

LAI Games, a subsidiary of Helix Leisure, has been a leader in the interactive entertainment and game industry for over 60 years. The company develops, manufactures, and sells coin and card operated virtual reality, prize merchandising, video and ticket redemption games, photo booths and novelties. LAI Games is dedicated to bringing innovative and high incoming-producing games to the global market.
For more information, please visit www.LAIGames.com.
Follow LAI Games on LinkedIn for more updates: https://www.linkedin.com/company/laigames
---

Home | Vending Technology News | More News | Vending Newsletter sign up | Questions? Contact us | email press release
Call us at 1-800-956-8363 or POST YOUR COMPANY, GET NEW BUSINESS!