LAI Games Shares Virtual Rabbids Insights with LB VR Community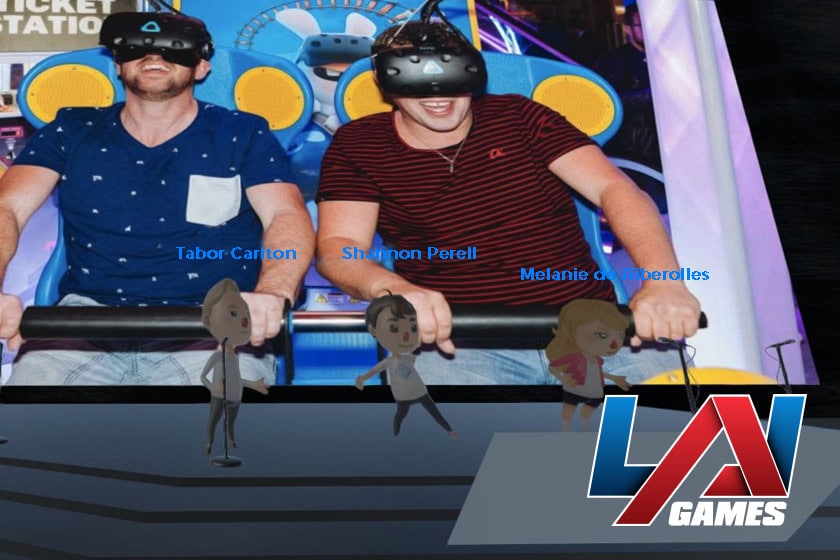 Dallas, October 26, 2020 – Leading manufacturer LAI Games recently teamed up with Ubisoft to give the location-based VR community insight into the creation of industry's highest earning unattended VR attraction, Virtual Rabbids: The Big Ride. At last week's VR LBE Summit, LAI Games VP of Research and Development, Shannon Perell and Ubisoft's New Business Director and Project Lead for Virtual Rabbids, Melanie de Riberolles spoke about how the project came together and what it took to create the awardwinning game. Among the points mentioned were the challenges the company faced in creating a paradigm-shifting, unattended VR product that would offer a seamless experience to a wide audience.
Summit attendees could participate on a desktop computer or in Virtual Reality, where exhibitors and attendees mixed and mingled using avatars, with the ability to speak to one another and act out basic motions such as clapping. In the virtual environment, attendees could walk the exhibit hall and visit exhibitor booths or attend presentations in the auditorium. The show was well-received and well attended.
For more information on the VR LBE Summit, visit www.virtualworldarcade.com/vrlbesummit2020.html.
To learn about Virtual Rabbids and the new Hygiene Kit that is now available for the game, visit www.laigames.com/virtual-rabbids.
About LAI Games
LAI Games, a subsidiary of Helix Leisure, has been a leader in the interactive entertainment and game industry for over 60 years. The company develops, manufactures, and sells coin and card operated virtual reality, prize merchandising, video and ticket redemption games, photo booths and novelties. LAI Games is dedicated to bringing innovative and high incoming-producing games to the global market.
For more information, please visit www.LAIGames.com.
Follow LAI Games across all their social channels: laigames.com/social
---

Home | Vending Technology News | More News | Vending Newsletter sign up | Questions? Contact us | email press release
Call us at 1-800-956-8363 or POST YOUR COMPANY, GET NEW BUSINESS!