LAI Games Plans Big Fun at Virtual Orlando Social Crawl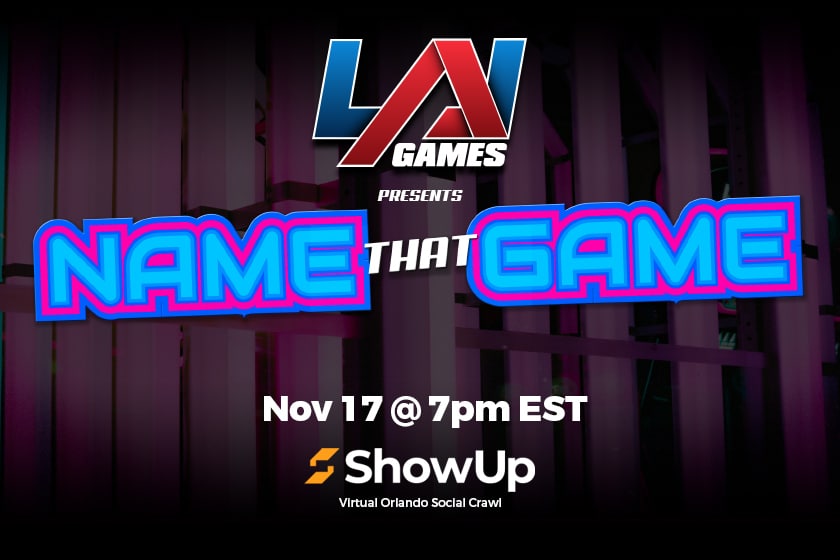 Dallas, November, 2020 – LAI Games, a founding sponsor of the ShowUp Trade Show for FECs, will be helping add some big fun to their Virtual Orlando Social Crawl, taking place Tuesday November 17 from 7pm – 11pm Eastern time. The company will host Name That Game, a brand-new virtual game show, at their booth starting at 7:30pm where contestants compete against their industry peers and colleagues in head-to-head lightning round trivia on arcade games, history and pop culture. Contestants can line up to "jump on stage" through their webcam or just watch the fun unfold. Every contestant who answers a question correctly will go into the draw to win one of three $50 Amazon.com Gift Cards!
The Virtual Orlando Social Crawl is free to attend and is focused on giving people a way to socialize and have fun after the extremely difficult past year. The user friendly, video-based platform promises to make the Social Crawl the next best thing to getting together for drinks after a long day at IAAPA.
This event is about fun, not selling. However, in an effort to provide some financial relief to operators, LAI Games will be offering a Show Special discount on the Virtual Rabbids Hygiene Kit to interested customers. To see what fun LAI Games has in store and learn more about Name That Game, visit https://laigames.com/social-crawl.
To register for FREE for the industry's biggest online party, visit https://hopin.to/events/showup-orlando-social-crawl?ref=dc65ce1bb77e
About LAI Games
LAI Games, a subsidiary of Helix Leisure, has been a leader in the interactive entertainment and game industry for over 60 years. The company develops, manufactures, and sells coin and card operated virtual reality, prize merchandising, video and ticket redemption games and novelties. LAI Games is dedicated to bringing innovative and high incoming-producing games to the global market. For more information, please visit www.LAIGames.com.
Follow LAI Games across all their social channels: laigames.com/social
---

Home | Vending Technology News | More News | Vending Newsletter sign up | Questions? Contact us | email press release
Call us at 1-800-956-8363 or POST YOUR COMPANY, GET NEW BUSINESS!