LAI Games Pearl Fishery Now Available, Exceeding Expectations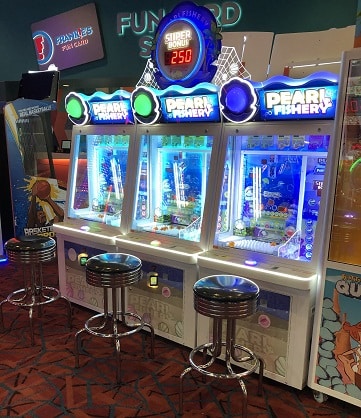 Dallas, January 10, 2020 – LAI Games new coin-pusher style redemption game Pearl Fishery, first introduced at IAAPA Expo 2019, is now in stock and shipping. The company reports that earnings are exceeding operators' expectations for the game, with it out-earning expensive, large-scale pushers.
"The game has been operating at 100% since install with no reported issues and is typically earning the same amount per player station as our larger six-player coin pushers," said Shawn Hetzel, Gameroom Director for premiere FEC chain Frankie's. "We are definitely exploring our options to add units to our other four locations."
Pearl Fishery takes the classic appeal of a coin pusher and mixes in the thrill of a multi-layered big-ticket game. Players drop pearls down the pin board into a matrix of multipliers to win tickets and special oversized Dragon Pearls, which give the player access to a super bonus big ticket jackpot. With many opportunities to win across multiple mini-games, Pearl Fishery a uniquely entertaining amusement machine.
For complete information and videos, visit www.laigames.com/pearl-fishery or contact your authorized LAI Games distributor.
About LAI Games
LAI Games, a subsidiary of Helix Leisure, has been a leader in the interactive entertainment and game industry for over 60 years. The company develops, manufactures, and sells coin and card operated virtual reality, prize merchandising, video and ticket redemption games, photo booths and novelties. LAI Games is dedicated to bringing innovative and high incoming-producing games to the global market. For more information, please visit www.LAIGames.com.
Follow LAI Games on LinkedIn for more updates: https://www.linkedin.com/company/laigames
---

Home | Vending Technology News | More News | Vending Newsletter sign up | Questions? Contact us | email press release
Call us at 1-800-956-8363 or POST YOUR COMPANY, GET NEW BUSINESS!