LAI Games Offers a New Pearl Fishery Model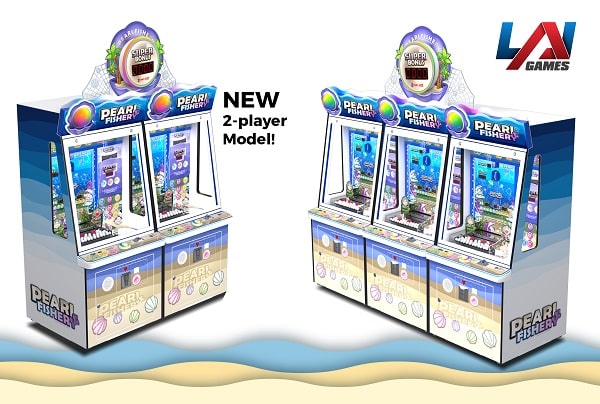 Dallas, May 6, 2021 – LAI Games will soon offer a new two-player version of their hit pusher game, Pearl Fishery. The new offering has a footprint 2/3 the size of the original three-player version, making it a great choice for operators with limited space in their venues. The company continues to sell the original version as well, which has been a top earner since its debut last year.

Pearl Fishery takes the classic appeal of a coin pusher and mixes in the thrill of a multi-layered big-ticket game. Players drop small pearls down the pin board into a matrix of multipliers to win tickets and release Big Pearls onto the play field, giving them access to a super bonus jackpot game for an even bigger ticket payout. Winning tickets are consistently paid out to reward players and keep the excitement levels high with tons of opportunities to win across multiple mini games, making Pearl Fishery a uniquely entertaining amusement machine that's fun for all ages.
For more information, contact your authorized distributor or visit laigames.com/games/pearl-fishery/.
About LAI Games
LAI Games, a subsidiary of Helix Leisure, has been a leader in the interactive entertainment and game industry for over 60 years. The company develops, manufactures, and sells coin and card operated virtual reality, prize merchandising, video and ticket redemption games, photo booths and novelties. LAI Games is dedicated to bringing innovative and high income-producing games to the global market.

For more information, please visit www.LAIGames.com.

Follow LAI Games across all their social channels: laigames.com/social