LAI Games New Coin Pusher Is a Towering Achievement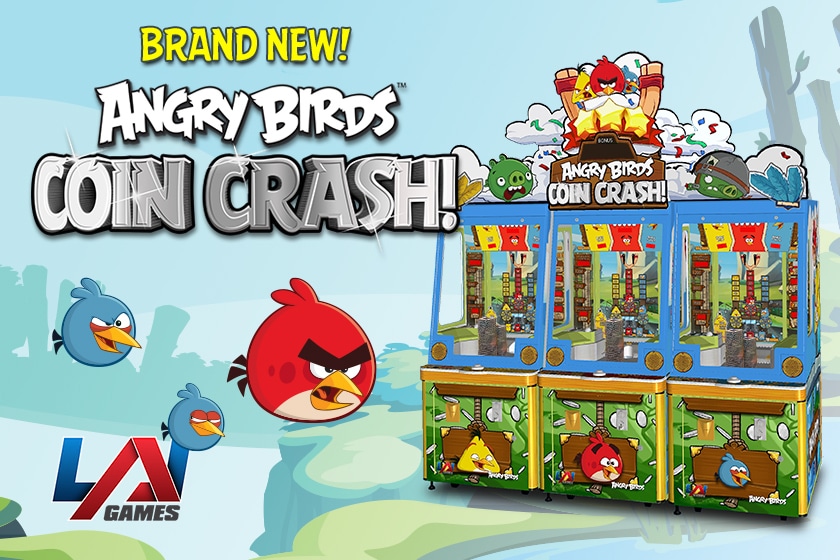 Dallas, June, 2021 – LAI Games new coin pusher towers above the rest – literally!

Angry Birds Coin Crash brings an exciting twist to the well-established world of coin pushers: players attempt to build huge towers of coins and send them crashing over the edge for a major ticket win. The first and only tower-building coin pusher redemption game available in the US, Coin Crash mesmerizes players and builds anticipation as the towers inch closer to the edge with every coin drop. The game is launching at all Dave & Buster's locations.

Angry Birds Coin Crash gives guests multiple ways to win tickets and add coins to the playfield. The coin tower is built from the bottom up via a special mechanism that deposits coins in a circle, one layer at a time. The completed tower is then pushed onto the playfield. Unlike coin pushers with collectible items, Angry Birds Coin Crash is completely self-contained, with nothing to restock. Add to that the Angry Birds license, a globally recognized brand that appeals to all ages, and a stunning cabinet available in two and three-player configurations, operators of any size venue can delight their guests with Coin Crash.

Get an in-person demo of Angry Birds Coin Crash at Bowl Expo in LAI Games Booth #323 and at Amusement Expo in Booth #465. For more information, contact your authorized distributor or visit https://www.laigames.com/games/angry-birds-coin-crash.
About LAI Games
LAI Games, a subsidiary of Helix Leisure, has been a leader in the interactive entertainment and game industry for over 60 years. The company develops, manufactures, and sells coin and card operated
virtual reality, prize merchandising, video and ticket redemption games, photo booths and novelties. LAI Games is dedicated to bringing innovative and high incoming-producing games to the global market.

For more information, please visit www.LAIGames.com.
Follow LAI Games across all their social channels: laigames.com/social