LAI Games Makes Virtual Reality Possible for Every Venue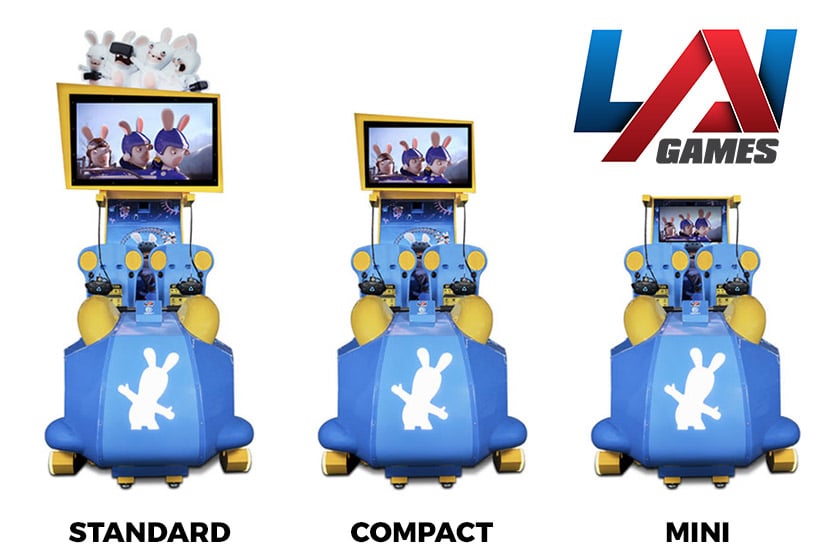 Dallas, March 6, 2020 – Premiere game manufacturer LAI Games has officially announced the availability of three cabinet models for its game-changing VR experience, Virtual Rabbids: The Big Ride.
The new models are specifically designed for locations with height restrictions or low ceilings, allowing operators of varying venue types to take advantage of the game's proven track record of high revenues.
Standard Model
The Standard model of Virtual Rabbids is a premium centerpiece attraction, with attention-getting acrylic signage and a huge 55″ monitor. It features the same compact footprint as the other models, and is the model of choice for a majority of operators.
Compact Model
The Compact model is virtually identical to the Standard version, with the only differences being a midsize, 32″ monitor and the lack of an acrylic header. The Compact is a great choice for locations like cruise ships where ceiling height is lower than in traditional venues.
Rabbids Mini
The Mini version fits comfortably in nearly any space, with a small, 23" monitor located behind the seats. This configuration allows onlookers to view the action in the most compact format possible. With no large monitor and signage to install, the Mini is easy to transport and set up, making it a popular choice for route operators. Pubs and historic locations with extremely limited height requirements are also a great "fit" for the Mini Virtual Rabbids.
Identical Experiences
Though the three models may look a little different, each offers guests the same powerful VR experience. All models use the same body, HTC Vive headsets, cutting-edge D-box motion bases and premium Ubisoft content that made the original a global mega-hit. The Big Expansion Pack can be added to any of the models to add three more experiences to the lineup, for a total of six rides to thrill guests.
Learn more about Virtual Rabbids: The Big Ride at www.laigames.com/virtual-rabbids.
About LAI Games
LAI Games, a subsidiary of Helix Leisure, has been a leader in the interactive entertainment and game industry for over 60 years. The company develops, manufactures, and sells coin and card operated virtual reality, prize merchandising, video and ticket redemption games, photo booths and novelties. LAI Games is dedicated to bringing innovative and high incoming-producing games to the global market. For more information, please visit www.LAIGames.com.
Follow LAI Games on LinkedIn for more updates: https://www.linkedin.com/company/laigames
---

Home | Vending Technology News | More News | Vending Newsletter sign up | Questions? Contact us | email press release
Call us at 1-800-956-8363 or POST YOUR COMPANY, GET NEW BUSINESS!