LAI Games Launches Virtual Rabbids Hygiene Kit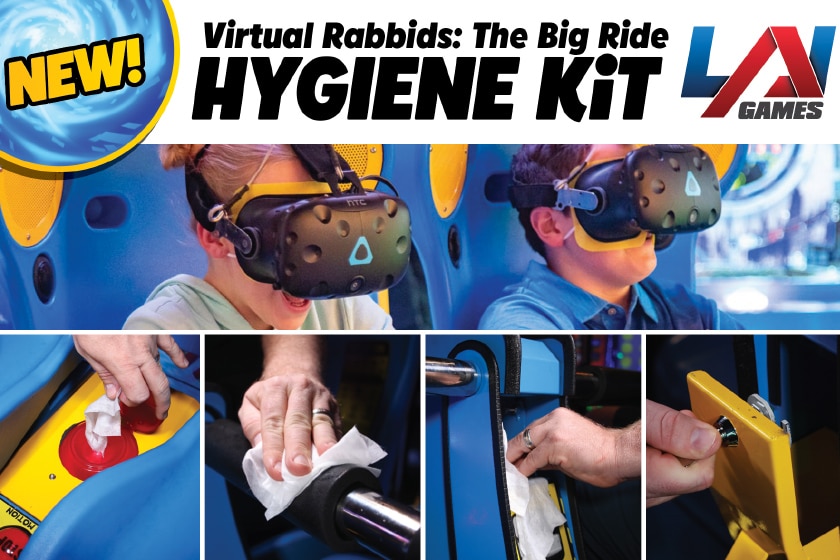 Dallas, August 06, 2020 – Leading manufacturer LAI Games announced a new Hygiene Kit for its hit virtual reality attraction, Virtual Rabbids: The Big Ride. The Hygiene Kit contains retrofits to hardware components on the game including a sanitizing wipe dispenser to sit between the seats and a trash receptacle directly built into the handlebar mechanism, allowing guests to take control of hygiene best practices and experience The Big Ride with confidence.
The Hygiene Kit also bundles over $150 worth of consumable parts which include disposable face masks, replacement heavy-duty headstraps, PU leather face pads and 3 canisters of sanitizing wipes.
A free media kit is also available on the LAI Games website with materials that help explain and advertise the features to guests. Locations can download the materials from the website's support section and print on-demand.
Operators can see the features of the upgrade kit on the product page at laigames.com/virtual-rabbids
About LAI Games
LAI Games, a subsidiary of Helix Leisure, has been a leader in the interactive entertainment and game industry for over 60 years. The company develops, manufactures, and sells coin and card operated virtual reality, prize merchandising, video and ticket redemption games, photo booths and novelties. LAI Games is dedicated to bringing innovative and high incoming-producing games to the global market.
For more information, please visit www.LAIGames.com.
Follow LAI Games across all their social channels: laigames.com/social
---

Home | Vending Technology News | More News | Vending Newsletter sign up | Questions? Contact us | email press release
Call us at 1-800-956-8363 or POST YOUR COMPANY, GET NEW BUSINESS!