International Debuts Plus the All-new Mini Virtual Rabbids at EAG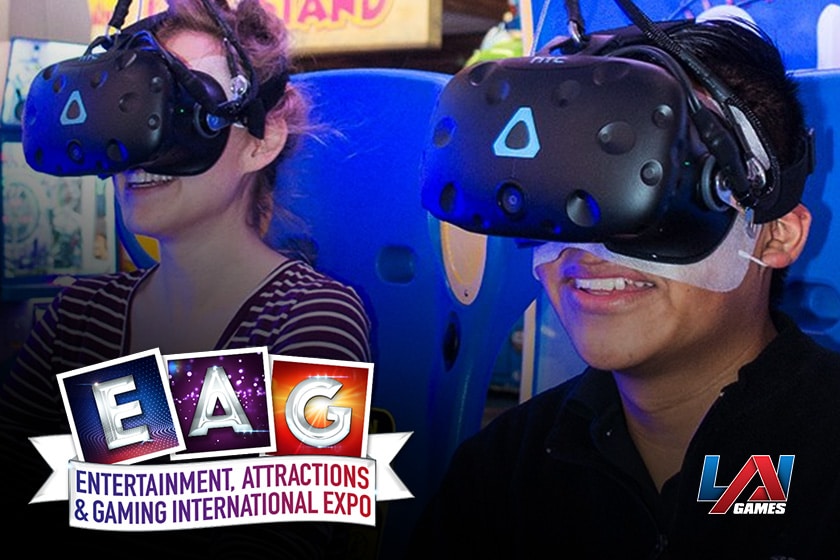 Dallas, January 8, 2020 – The Entertainment, Attractions and Gaming Expo will set the stage for the International debut of LAI Games' new 2020 lineup next week in London, including a brand new Virtual Rabbids model. The Mini Virtual Rabbids sports a lower, compact screen, while featuring the same award-winning game play as the original, making it perfect for pubs and other venues with limited ceiling height. On display will be the three new Virtual Rabbids experiences introduced last summer, as well as the three originals that made the game a monster hit globally.
Other games making their European premiere include the competitive target shooter Outnumbered, the sports-themed ball throwing game HYPERpitch and the family-friendly video redemption game Toy Frenzy.
Outnumbered is specifically engineered to drive traffic back to a venue through its companion app, Weapon Forge.
Players unlock new in-game content after each stage, which they can use to create and upgrade custom weapons in the app. Progress is saved, and by using the app to log in at the cabinet, players can pick up where they left off and use their new weapons in the game, creating a revolving door for repeat gameplay.
HYPERpitch features dynamic lights that chase the ball down the HYPER Tunnel while explosive sound effects create an incredible sensation of power as the ball hits the target. This ticket redemption game creates a social competitive atmosphere that draws a crowd and gets players lining up for their turn.
Toy Frenzy lets up to three friends compete or collaborate to free suspended toys by shooting their ropes using oversized blaster cannons. The simple gameplay is perfect for a young, energetic audience, while deeper layers of strategy that unlock bigger rewards give the game mass appeal.
LAI Games invites you to experience these games for yourself at Harry Levy Booth# 600 at EAG. For more information, visit www.laigames.com.
About LAI Games
LAI Games, a subsidiary of Helix Leisure, has been a leader in the interactive entertainment and game industry for over 60 years. The company develops, manufactures, and sells coin and card operated virtual reality, prize merchandising, video and ticket redemption games, photo booths and novelties. LAI Games is dedicated to bringing innovative and high incoming-producing games to the global market. For more information, please visit www.LAIGames.com.
Follow LAI Games on LinkedIn for more updates: https://www.linkedin.com/company/laigames
---

Home | Vending Technology News | More News | Vending Newsletter sign up | Questions? Contact us | email press release
Call us at 1-800-956-8363 or POST YOUR COMPANY, GET NEW BUSINESS!