ICE Takes Over STING Kiddie Ride Line
Innovative Concepts in Entertainment (ICE) is proud to announce a new partnership with Mark Sprenger and Sting International. ICE will be adding the popular Sting rides, attractions and games to its extensive portfolio. Moving forward ICE will be handling many popular Sting rides such as The KC Cobra, South Beach KC Cobra, Alien Boogey Patrol and Big Bug Blaster, many of which have all been proven top earning kiddie rides in the industry for the
last decade.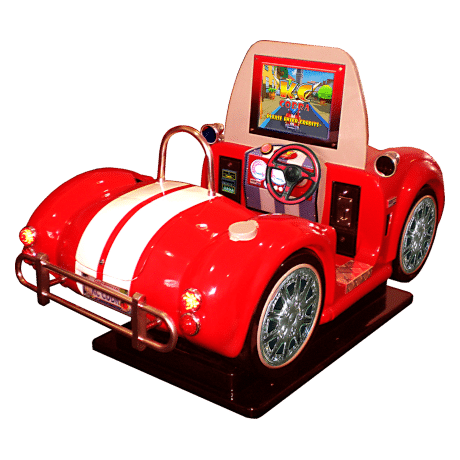 Joe Coppola, President of ICE enthusiastically pointed out, "We have a long- standing relationship and friendship with Mark that goes back many years and together we've had some great products over those years. We have always considered Mark one of the most creative talents in the amusement industry. Mark's creativity when it comes to rides and games fits so well into our product line up. We have always considered Mark's products "best in class."
Coppola continued, "these are difficult and challenging times for our industry, but we remain very confident and we feel that once we get to the other side of this pandemic there will continue to be excellent opportunities out there. Adding Sting products to the ICE line up will help us diversify and continue to bring our distributors and operator customers the very best and highest quality products. I also want to emphasize that ICE will be handling the spare parts and technical support of ALL Sting rides and games currently in the field as well as the new product sold by ICE. We know how important after sales service and technical support is to our customers worldwide and we intend to fully support the Sting products."
The KC Cobra, which started the kiddie ride line, has already been a huge success in the market and ICE is hoping to continue to expand on that success and the reputation of the ride. Players get feel of being in the driver seat as they cruise through town racing to collect as many coins as possible. Jump over obstacles and retrieve the gas cans for an extra boost! The more coins you collect the higher your reward! This ride also features a spinning motion base, lighted dash panel, real chrome accents and working head & taillights. This game options include DBV or ticket redemption.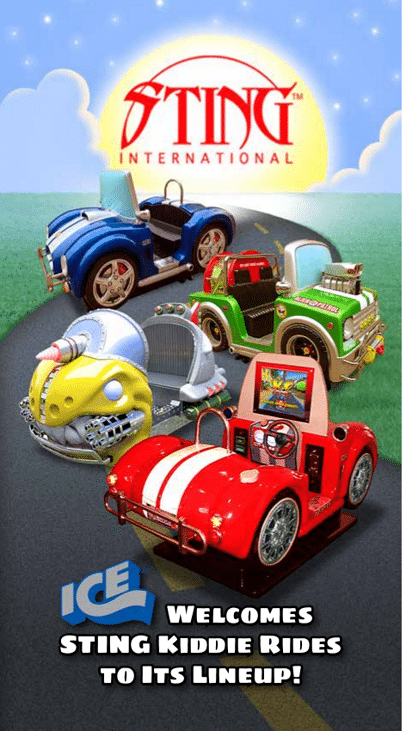 The Alien Boogey Patrol ride takes players on a mission to race and capture dancing aliens throughout the city. The more aliens you capture the more tickets you win. Alien Boogey Patrol is perfect for the space fanatics and kids of all ages and features a motion base, lighted gauges, and operator adjustable gameplay. A ticket redemption or DBV option is also available for this game.
The latest addition to the Sting line that ICE will be offering is the Big Bug Blaster. Now with a new improved steering wheel. Players drive around taking out the bugs invading the town. Take out more bugs for a higher score. The Big Bug Blaster is ready to invade arcades worldwide.
Coppola finished by saying, "these are a top-quality collection of rides and we look forward to collaborating with Mark on more rides as well as some great game concepts he has in the works."
The STING product line is now available, contact your ICE sales rep to order yours today.
10123 Main Street, Clarence, New York 14031 • (716) 759-0370 • Fax (716) 759-0390 www.icegame.com
---

Home | Vending Technology News | More News | Vending Newsletter sign up | Questions? Contact us | email press release
Call us at 1-800-956-8363 or POST YOUR COMPANY, GET NEW BUSINESS!