Grandeur Exhibition Group: Join Hands Together to Fight Against the New Coronavirus Epidemic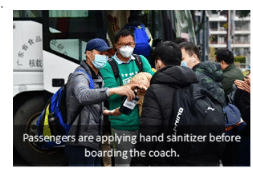 As one of China's foremost exhibition organizers, as well as the organizer of 2020 Asia Amusement & Attractions Expo, Guangdong Grandeur International Exhibition Group has always considered the health and safety of our exhibitors and visitors a top priority. Since the outbreak of the Novel Coronavirus Pneumonia (NCP), our company has been actively engaged in the war against the disease by keeping a close watch on the rapidly evolving situation, and making our best efforts to help stop its spreading. 
 The control and prevention of the epidemic is not only the responsibility of China, but also of the whole international society. To better join hands with global community to combat the virus and give international insiders a better understanding of the situation, we have drawn together the latest updates in China and Guangdong Province.  
Nationwide Signs of Slowdown in Spread of NCP 
At the onset of the NCP outbreak, China has taken a series of effective measures to prevent the virus from spreading to the whole country, including suspending all passenger traffic from and to Hubei, banning massive gathering nationwide, advising citizens to undergo self-quarantine, educating the public on effective disease prevention via nationwide media, extending the Chinese New Year holiday to delay the resumption of business, and etc.  
These decisive moves have helped successfully contain the virus on a national scale. By this Feb. 11th, there are altogether 42708 confirmed cases in China, 31728 of which happened in Hubei, accounting for 74% of the national total. The spread of the virus has also shown signs of slowdown, with latest data suggesting national everyday new cases (Wuhan excluded) have decreased for the past 6 days in a row.  
Date

 

Feb. 5th

 

Feb. 6th

 

Feb. 7th

 

Feb. 8th

 

Feb. 9th

 

Feb. 10th

 

No. of New Cases

 

Hubei 

(Wuhan Excluded)

 

1221

 

946

 

856

 

768

 

697

 

545

 

China

 

(Hubei Excluded) 

707

 

696

 

558

 

509

 

444

 

381

 
*Data Source: National Health Commission of China 
Right now, China is working closely with worldwide scientists to develop vaccine and strategies against the virus. So far, 4005 patients have recovered, while 1017 deaths are reported in total. For the past 9 days consecutively, the figure of current total recovered has surpassed that of current total deaths, and the number of everyday new recovered has also exceeded that of everyday new deaths for 11 days straight. 
Guangdong Takes Lead in Epidemic Prevention 
In Guangdong Province, which is populated by 113 million people, there are only 1,151 confirmed cases overall, according to the latest data. Its capital city, Guangzhou, with migrant workers accounting for 66% of the 15 million permanent residents, has only 313 confirmed cases. It can be seen that Guangdong has done well in the epidemic prevention, and has been less affected by the virus. We believe normal business cooperation between Guangdong and the world will be resumed soon!  
Although Guangdong is miles apart from the epicenter of the outbreak, it has tightened measures to battle the novel coronavirus epidemic, including demanding all citizens to wear masks in public places, checking everyone's temperature when entering public places or taking public transports, mandating frequent ventilation and disinfection in public places, and etc. What's more, people coming back from Hubei Province, as well as those they have contacted will be quarantined for 14 days in designated hotels, for whom free necessities and health service are available.  
With the Spring Festival coming to an end, local governments in Guangdong have launched corresponding measures to support enterprises to resume to work, such as distributing masks to enterprises, requiring workers to wear masks in workplace, and registering and measuring temperature of those who enter the office park. 
Grandeur Actively Cooperates With the Epidemic Prevention Work 
As a company with a strong sense of social responsibility, Grandeur International Exhibition Group has postponed exhibitions initially held in February and March, as a response to national epidemic prevention work and to guarantee the best exhibition experience for our exhibitors and visitors.  
Moreover, during the Spring Festival, our staff has already self-quarantined and worked at home, and reported their health condition every day. After resuming to work on February 10th, the whole staff will receive temperature checks 3 times a day, and the company has adjusted the work hours to avoid the rush hour. 
Grandeur will always be with you through thick and thin. Even at a time like this, Grandeur will continue to work at the front line of the exhibition industry, and make extra efforts to build a professional business platform for insiders around the world. We believe with the joint efforts of government, enterprises and people across the country, China will overcome the epidemic in the near future. Thanks for your longstanding supports and we will definitely not let you down! 
2020 Asia Amusement & Attractions Expo(AAA 2020) 
Date: May 10 – 12, 2020 
Venue: China Import & Export Fair Complex, Guangzhou China
Website:www.aaaexpo.cn
Thomas Chan
Email:sales2@grandeurhk.com
Phone/WA: +86 18565552702 
---

 Vending Technology News | More News | Vending Newsletter sign up | Questions? Contact us | email press release
Also see: Software Companies | Technology Companies | Micro Markets | Cashless Vending | Distributors | Classified Ads | Routes for sale | Vending Companies USA | Home |
VENDING YELLOW PAGES DIRECTORIES:
Call us at 1-800-956-8363, POST YOUR COMPANY, GET NEW BUSINESS!