Fat Snax Cookies – Gluten Free, Keto Friendly Cookies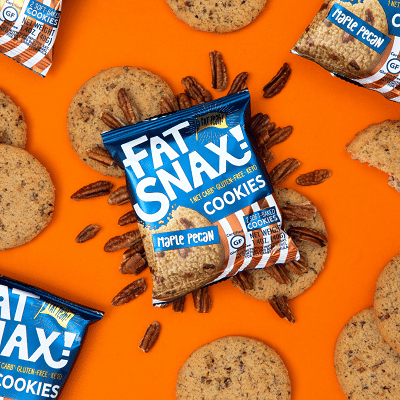 One of the favorite snack foods of choice in the world today continues to be cookies, and more people are adding sugar-free or gluten-free cookies to their diets.
Fat Snax Cookies; are yummy cookies that are keto-friendly and are made with "clean ingredients", these cookies have only 1-2 carbs per cookie, are grain-free, contain no preservatives and they also don't contain any soy or corn. 
Get To Know Fat Snax Cookies
Created by Jeff Frese, the Canada based company specializes in creating delicious snacks for people who want to limit their intake of sugar and carbs, or are just committed to eating healthy overall.
Fat Snax fills a void in the cookie market because their healthy cookies taste great and have real health benefits because they don't contain the sugar or ingredients that many of their competitor's cookies contain.
With more people snacking worldwide since the start of the Pandemic, Fat Snax cookies have become more in demand than ever before because most consumers who want to enjoy the occasional cookie also want to have their cookies without having to think about the ingredients they are consuming.
Perfect For Cookie Fans Everywhere
Besides offering delicious traditional sized cookies, Fat Snax also offers mini cookies as well.  Their fun-sized cookies are perfect for people of all ages, including children. 
Parents who offer their children Fat Snax cookies can have confidence in the quality of the cookies that their children are eating without having to be concerned about the ingredients.
Besides cookies, Fat Snacks also makes keto-friendly, low carb crackers too! Their crunchy crackers are the perfect alternative to traditional chips and also taste delicious.
To learn more about Fat Snax Cookies and Crackers, visit their website at https://fatsnax.ca.