Dearborn Honey BBQ Hunters Sausage Stix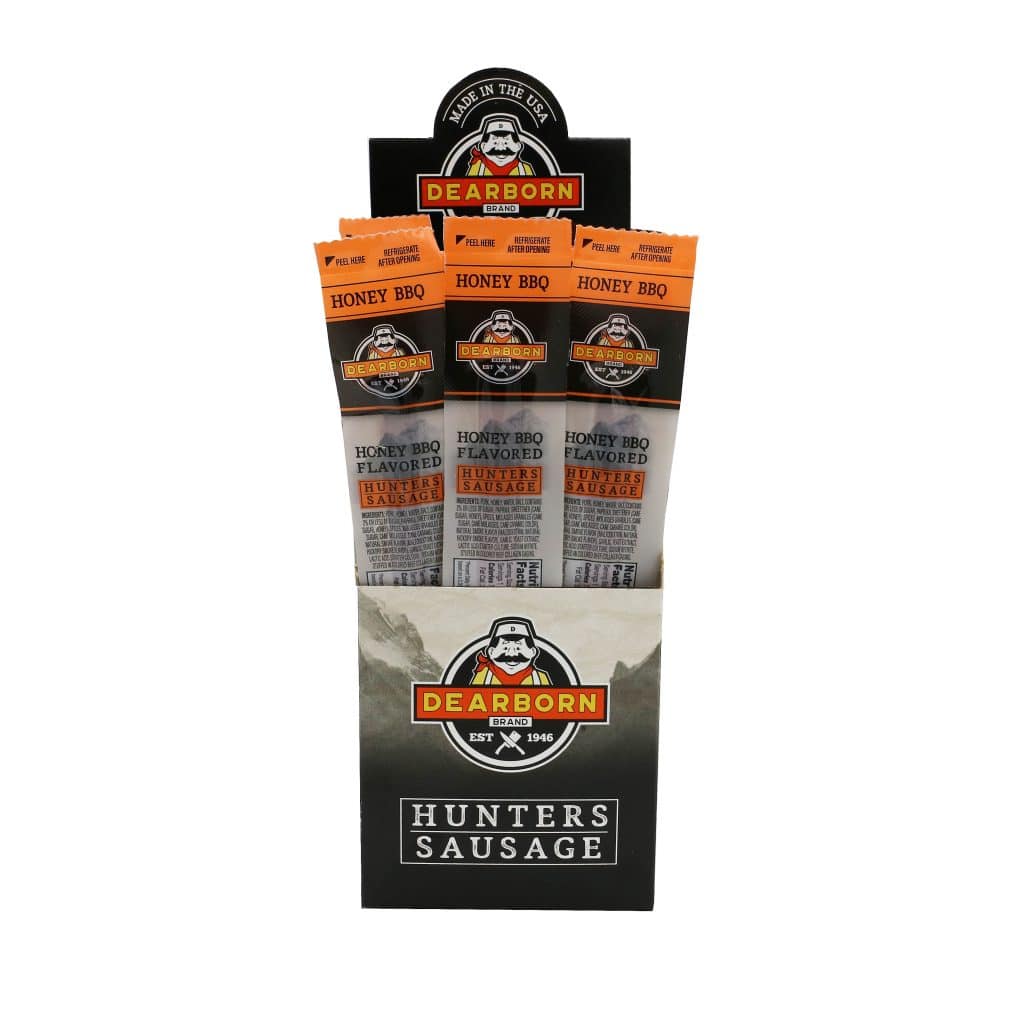 Looking for a protein snack-on-the-go? Thanks to Dearborn Honey BBQ Hunters Sausage 1 ounce Stix, consumers can enjoy this protein-packed snack ,a tasty treat that tastes good and is packed with 5 grams of protein. 
About Dearborn Honey BBQ Hunters Sausage
Made from lean beef & pork; and seasoned using an award-winning blend of spices, these sausage snacks taste great and will appeal to anyone who is looking for a convenient protein snack that they can enjoy even while they are on the go.
With more consumers viewing protein snacks as 'healthy snacks' these days, Dearborn Honey BBQ Hunters Sausage will also appeal to consumers who are looking for a quick healthy snack before their next workout, or a snack that they can enjoy in their offices without having to think about the extra calories.
Made With Clean Ingredients
Besides being a healthy and delicious treat, these individually wrapped sausages also are processed with clean ingredients, and they are a high source of Vitamin A and Iron as well.
For more than 75 years, Michigan-based Dearborn has been producing quality snacks that have also been sold around the world.
The recipes for their snacks are inspired by the Hungarian heritage of the Dearborn family, and the time-tested recipes that their ancestors learned before immigrating to the United States.
Retailing for $19.99, for a 24 pack, these sausages will certainly be snacks that you're vending and micro market customers are going to enjoy.
To learn more about Dearborn's Honey BBQ Hunters Sausages, visit their website at https://dearbornbrand.com, or call 866.900.4426.
Private Label
Dearborn Sausage Co. is committed to producing the highest quality meat available, and that includes our private label products for restaurants, delis, stores and distributors. As a private label manufacturer, we have already done the heavy lifting – production planning, certification, quality assurance and more. Trust in our 70 years of experience manufacturing and selling some of the world's finest quality franks and sausages. It will be a smooth process for all partners involved.
Bulk orders of 500–50,000 lbs can be produced and shipped every week. We will provide everything you need, including all required documentation and samples, to sell your own high-quality brand. Partner with Dearborn Brand and you will keep your production right here in Michigan, see customer loyalty improve and experience increased profits.
For more information, contact Marcharia Randels: 313.842.2375 ext. 3030, mrandels@dearbornbrand.com