Custom Wall Mounted Vending Machines Save Space, Vends Small Products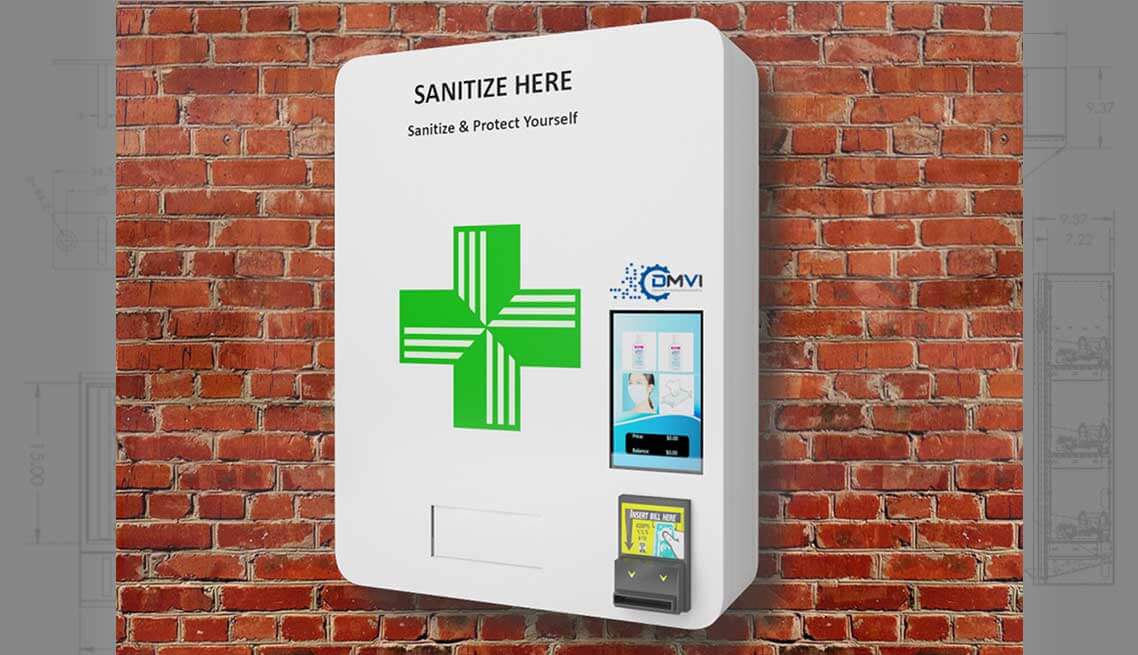 In 2020, businesses have to adapt to the changing world more than ever before especially since Covid-19 has shut down many traditional business locations.
How can a company continue selling their products during these changing times? The solution is to invest in a wall-mounted vending machine made by Digital Media Vending International, LLC. Custom wall-mounted vending machines are a compact, space-saving alternative to large free-standing vending machines.
Wall-mounted vending machines are ideal for distributing any handheld product because they can be placed anywhere, and are a space-saving alternative to traditional floor standing vending machines.
Vending Machines In The Smallest Or Tightest Spaces

From restrooms, hallways, lobbies or lounges, wall-mounted vending machines save space and can dispense a variety of products from snacks, drinks, and more.
The company recently built a custom wall-mounted vending machine for American Sentry PPE, a company based out of Corona CA.
American Sentry PPE was looking for a cost-effective way to sell and its PPE products which include hand sanitizers, face masks, latex gloves, and other products to a wider audience.
Thanks to Digital Media Vending International, LLC, American Sentry PPE can grow their business because the wall-mounted vending machines can be placed at any location.
Since March 2020, demand for PPE products has been on the rise due to Covid-19 so now is the perfect time for any American Sentry PPE and similar companies to focus on growing their businesses because the demand for face masks, hand sanitizers, and other sanitizing products isn't expected to decline anytime soon.
Besides American Sentry PPE, the company has also recently made wall-mounted and smart vending machines for Atlanta based OilsUnkut and WholeBodyArmor, a company that sells a diverse body of products including cotton masks, body oils, tee shirts and more.
21 st Century Vending Machines

Unlike traditional vending machines from years past that only accepted cash or coins, all vending machines made by Digital Vending International, LLC include a credit & debit card terminal, live coupon validator, inventory management, API solutions, and a coupon validator.
Vending machines made by Digital Media Vending International, LLC will continue to be an ideal method for product delivery for years to come because they are easy to use plus don't require any physical contact with the machine itself.

Digital Media Vending International, LLC will help you distribute your product to a larger audience and grow your business. To learn more about them visit their website at www.digitalmediavending.com or call (800) 490-1108, email contact@digitalmediavending.com.
We are actively looking for Resellers, Operators and Distributors around the world. Call us now and become a distribution partner in your region.
Exclusivity considered for qualified applicants in certain regions outside the USA
OEM White label Available
---

 Vending Technology News | More News | Vending Newsletter sign up | Questions? Contact us | SUBMIT PRESS RELEASE
Also see: Software Companies | Technology Companies | Micro Markets | Cashless Vending Solutions | Distributors | Classified Ads | Routes for sale | Vending Companies USA | VendLoco Lists | Home |
VENDING YELLOW PAGES DIRECTORIES:
Call us at 1-800-956-8363, POST YOUR COMPANY, GET NEW BUSINESS!