Cupcake Vending Machine with Elevator Delivery System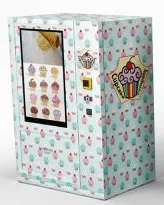 Do you dream of owning a cupcake store or already operate one? Expand your reach and brand awareness without the high cost of traditional brick-and-mortar stores. Digital Media Vending International's cupcake vending machine can be placed in hundreds of versatile and unique locations, and reach a larger potential market. Imagine having branded, touchscreen vending machines at your local airport, business parks, railway stations, malls and movie theatres.
Keep an eye on inventory levels by logging into the cloud remote management system and only visit when you need to restock.
This touchscreen, elevator & conveyor belt vending machine (pictured) is perfect for cupcakes and is about $150 a month to lease, (subject credit check). A recent client with a similar business model was able to generate $50k in revenue with 6 machines over the 3 months.
Bakery Vending Machine
These cupcake vending machines use elevators and conveyor belts, so your cakes never drop and are handled with care throughout the delivery process.
Instead of a glass-front vending machine, we recommend swapping the glass for an HD 42″ touchscreen. You'll be able to display large high-quality photography of your beautiful creations which will catch the attention of potential passing customers. You'll be able to display detailed nutritional information or even videos on how they are made.
At the end of the purchase, offer your customer an incentive to type in their email address, like a coupon. Your cupcake vending machines could be building a database of customers so you can expand your marketing reach.
Digital Media Vending International, LLC will help you distribute your product to a larger audience and grow your business. To learn more about them visit their website at www.digitalmediavending.com or call (800) 490-1108, email contact@digitalmediavending.com.