Biggest IAAPA Lineup Ever for LAI Games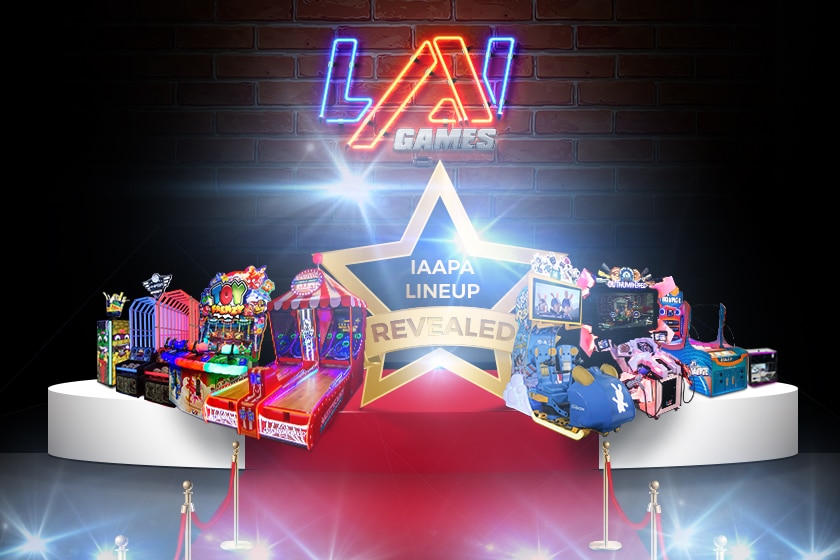 Dallas, November 12, 2019 – Leading game manufacturer LAI Games is set to debut more new games than ever before in the company's history at the IAAPA Expo in Orlando, FL November 19-22. The company will showcase six new games at the show: Outnumbered, Pearl Fishery, HYPERpitch, Amazing Alley, Toy Frenzy and the Monster Munch ticket eater. In addition, The Big Expansion Pack – the three new experiences available for their hit Virtual Rabbids – will also be on display.
The company's 2019 lineup is a testament to LAI Games' commitment to bringing the most innovative, proven games to market. For example, the video target shooter Outnumbered offers a new operating paradigm by utilizing a mobile app to drive repeat traffic to the venue. Pearl Fishery blends the classic appeal of a coin pusher with the thrill of a multilayered big-ticket game to create a uniquely entertaining amusement machine. HYPERpitch is a baseball-style pitching game featuring dynamic lights that chase the ball down the HYPER Tunnel while explosive sound effects create an incredible sensation of power as the ball hits the target. Amazing Alley takes classic alley bowlers a step further by augmenting gameplay with colorful and explosive holographic effects. Also on display will be award-winning classics like Let's Bounce and HYPERshoot, Prize Box crane, and more!
Experience all of these for yourself at Booth 1034 at the IAAPA Expo, or learn more at
www.laigames.com/iaapa-2019.
About LAI Games
LAI Games, a subsidiary of Helix Leisure, has been a leader in the interactive entertainment and game industry for over 60 years. The company develops, manufactures, and sells coin and card operated virtual reality, prize merchandising, video and ticket redemption games, photo booths and novelties. LAI Games is dedicated to bringing innovative and high incoming-producing games to the global market.
For more information, please visit www.LAIGames.com.
Follow LAI Games on LinkedIn for more updates: https://www.linkedin.com/company/laigames
---

Home | Vending Technology News | More News | Vending Newsletter sign up | Questions? Contact us | email press release
Call us at 1-800-956-8363 or POST YOUR COMPANY, GET NEW BUSINESS!