Basil Street Announced Partnership with Prepango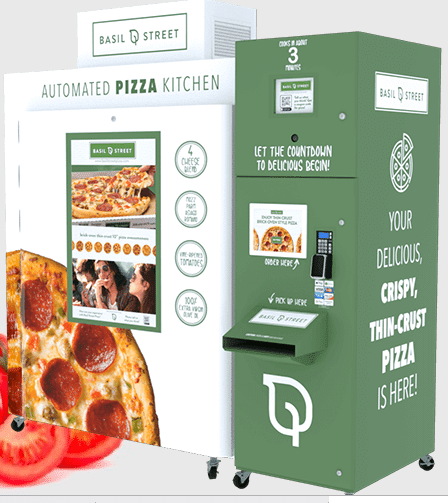 The days of going hungry at the airport are almost over!!
As a traveler, have you ever found yourself rushing to catch a connecting flight or stuck waiting late-night in an airport for your flight and unable to find fast, quality food options? Well thankfully your wait for a delicious, hot and convenient meal solution may soon be over thanks to Basil Street's recently announced partnership with Prepango.
Through this new partnership, Basil Street will be able to expand its innovative automated pizza kitchen (APK) network into several of the largest airports in the country. Starting with San Antonio International Airport in the coming weeks, Basil Street will utilize Prepango's expansive relationships/contracts to launch its fully certified National Sanitation Foundation (NSF) and Underwriters Laboratories (UL and EPA-approved) APKs in major airports across the country.
"Basil Street's APKs fall right in line with other premium innovative automated retail solutions we offer our customers, which include illy coffee, Sprinkles Cupcakes, LEGO, and KYLIE among others, and is exactly what our customers are looking for," said Marcos Modiano, founder, and CEO of Prepango LLC.

"We prefer to partner with companies whose machines are fully certified by (NSF) and (UL) and Basil Street easily meets our standards when it comes to customer safety for automated pizza. Already, we have seen strong interest from our airport partners inquiring about Basil Street APKs to provide a quality food option to passengers at a time when service and opening hours fluctuate drastically due to the ongoing labor shortage."

Keeping quality and convenience as forefront values, Basil Street's kiosks feature three 10-inch Italian style, thin-crust pizza offerings: four-cheese, pepperoni, and a "Pizza of the Month," selling between $12.95-$14.95. All of Basil Street's pizzas are made with the freshest ingredients and then flash-frozen, to preserve the flavor and freshness, before being cooked-to-order in about three minutes.
The cooking process utilizes their patented three-element non-microwave speed oven. The combination of the revolutionary oven technology and pizza quality creates a finished product that rivals an elevated pizzeria. Basil Street has figured out how to deliver a brick-oven pizza experience in a fraction of the time. 

Further information on Basil Street can be found on its website at www.basilstreetpizza.com. 

​​Further information on Prepango can be found on its website at www.prepango.com.