Avanti Markets Announces 2020 Operator Awards
Avanti Markets recognized seven (7) organizations for their outstanding performance and accomplishments in 2020.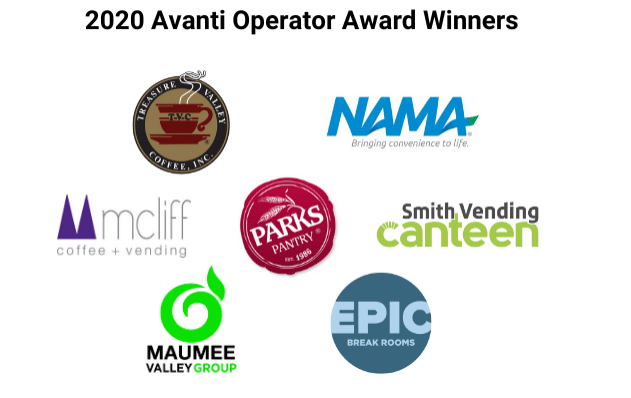 Renton, WA- January 12, 2021: Avanti Markets recently announced the recipients of their annual awards honoring operator success throughout the year.
As a platform built by an operator, for operators, the Avanti Markets team focused 2020 on helping operators face uncommon times given the COVID19 pandemic. "2020 was a difficult year and our operators faced unprecedented challenges. We dedicated our year to supporting, informing, and aiding our resilient customers as we navigated this unpredictable year together," said John Reilly, president of Avanti Markets.
"All of our operators are worthy of public recognition for their perseverance and fortitude and we appreciate them all. With that in mind, it gives me great pleasure to recognize these special seven (7) operators who accomplished much in the face of adversity," he added. Winners were presented with their awards via video calls with Avanti Markets leadership earlier this month.
2020 Award Recipients
TREASURE VALLEY VENDING, Coffee Spotlight Recognition
Treasure Valley Vending was founded as a coffee roaster and later incorporated micro markets into their operation. We have seen them successfully provide Single Cup Hot Beverage Programs in their micro markets built on their understanding that coffee and hot beverages are an important component of the breakfast day part and the total market experience.
NATIONAL AUTOMATIC MERCHANDISING ASSOCIATION, Micro Market Legislative Advocate
We recognize NAMA's efforts and important role in advocating for this industry and helping guide all through the challenges that Covid-19 created. We and the rest of the industry thank them for their work.
MCLIFF COFFEE & VENDING, Rising Star Award 
With new leadership in 2019 solidified and a skilled and motivated team, McLiff, a relatively new Avanti Operator, reinvigorated its business, overcame competition and COVID-19, and grew its business in 2020. We applaud this Rising Star in our family of operators.
SMITH VENDING, Customer Appreciation Award
We proudly recognize Smith Vending for making Avanti a better company and for their dedicated commitment to the Avanti Markets platform. We truly appreciate the management team at Smith for their accessibility, ease to work with, and willingness to try new things. They are a valuable member of our family.
PARKS PANTRY, Growth Performer of the Year (100+ Markets)
Headquartered in Dallas, we want to recognize Parks for outstanding accomplishments in this atypical year. As one of our largest operators and premier coffee and market operators, Parks Pantry was able to forge growth in 2020 and looks to continue this pattern in 2021. Congratulations to Randy and Clay and the entire Parks Pantry Team.
EPIC BREAKROOM SOLUTIONS, Growth Performer of the Year (<100 Markets)
With new ownership and leadership, Epic distanced itself from the group in the under 100 Markets category. This dedicated and talented team has solidified its presence in Northern Utah and is expected to continue to grow in the coming year.
MAUMEE VALLEY GROUP, Operator of the Year
To our MVP in 2020, thank you Maumee Valley for being an Avanti Operator. Going into your 75th year in business, we applaud your expertise, innovative spirit, and strong support of Avanti Markets. We would not be here without customers like you. Thank you.
Avanti Markets is proud to have a family of over 250 operators throughout the United States and globally. Operators enjoy unparalleled support from the Avanti Markets team to ensure they have the tools they need for success.
ABOUT AVANTI MARKETS INC.


In 2009, Avanti Markets was founded by an operator who pioneered the micro market industry. Today we are a technology company focused on unattended retail that extends well beyond the original micro market while continuing to lead in the micro market industry. Our Avanti Markets' transaction system is trusted by hundreds of market operators as the leading-edge micro market platform to build and grow their business.
---

 Vending Technology News | More News | Vending Newsletter sign up | Questions? Contact us | SUBMIT PRESS RELEASE
Also see: Software Companies | Technology Companies | Micro Markets | Cashless Vending Solutions | Distributors | Classified Ads | Routes for sale | Vending Companies USA | VendLoco Lists | Home |
VENDING YELLOW PAGES DIRECTORIES:
Call us at 1-800-956-8363, POST YOUR COMPANY, GET NEW BUSINESS!