USI iCart Touch Screen with Flex Control Board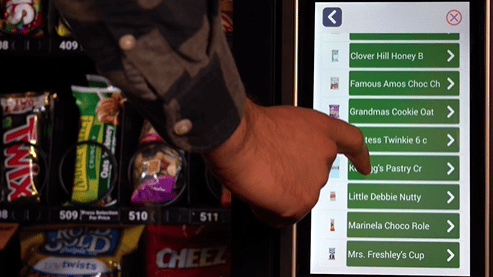 Do your vending machines offer touch screens that your consumers can use to view items before ordering? If not, you should consider the U-Select-It iCart Touch Screen with Flex Control Board, an ideal feature that comes installed on their Evoke Series Merchandisers.
Drive more sales with the iCart, offer deals, special pricing, and promotions that your customers will be interested in, or share with them calorie/nutrition information about the products that you're selling.
You can do it all with the iCart 10.1-inch interactive screen including offering your customers support for third-party systems, an audio interface for the sight impaired, and a convenient browse mode so that consumers can easily find the products that they want fast. 
Get Better ROI From Your Vending Machines
When you place a U-Select-It Evoke series vending machine, with the iCart touch screen, you will be able to get a better return on investment from that location than what you may currently be earning with your older vending machine. Consumers want interactive vending machines that show them exactly what they are ordering and answer all questions about the food/beverages that they want before they place their orders.
The iCart touch screen will increase your sales at the location it's placed because more consumers will be engaged by the vending machine instead of walking away empty-handed.
Large, Durable Vending Machine
Unlike some touch screen vending machines that can only be placed at some locations, the Evoke vending machine is large, durable, and can be placed anywhere including locations with high foot traffic, to smaller locations.
Des Moines Iowa based USI vending machines also offers two native purchase modes that include a fast vend mode for traditional item displacing, and a shopping cart mode that will enable a consumer to have up to three item purchases via one transaction.
To learn more about iCart, made by USI, and their Evoke vending machines, visit their website at https://www.uselectit.com or call (800) 247-8709.