Trio-IQ, 5-In-One EMV Payment Terminal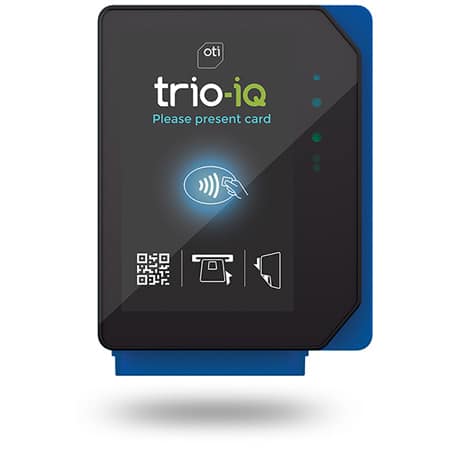 Trio-IQ – 5-in-1 EMV Payment Terminal Offers Rugged Design For Indoor And Outdoor Use.
Trio-IQ, is a state-of-the-art payment terminal that features telemetry with 5-in-1 EMV payment technology, customers can easily make the payments that they want to make without having to concern themselves with spreading viruses.
Trio-IQ is more than just a payment terminal, it offers a wide variety of features including a large touch screen, DUAL CPU, and HDMI output. Besides these features, Trio-IQ also offers a quality speaker, 5MP Camera, scanner, and proximity sensors as well.
Ideal For Vending
Besides being ideal for vending, and the unattended market, this modular contactless payment solution is also well-suited for entertainment centers, mass transit, kiosks, and fuel payments.
Once installed, this technology will enable vending operators to maximize their cash flow because Trio-IQ also has multimedia capabilities that operators can use to run advertisements and videos to promote other products and services.
Operators can also have peace of mind in knowing that this payment technology is certified by most global payment brands including VISA, Mastercard, Samsung Pay, Apple Pay, and Google Pay, ensuring that a customer won't leave their vending machine empty-handed.
Designed By The Leader In Payment Processing
Created by OTI, a leader in developing payment technologies for over 30 years, the Trio-IQ is the best-in-market lease option for operators because there are low upfront costs to get started.
OTI makes it as easy as possible for operators to get up and running with their technology fast and with a presence in 55 countries worldwide, operators can have confidence in knowing that they are working with a global leader in payment technology.
To learn more about Trio-IQ, visit the OTI website at https://otiglobal.com.