Stockwell 2.0 Voted 2022 Winner at NAMA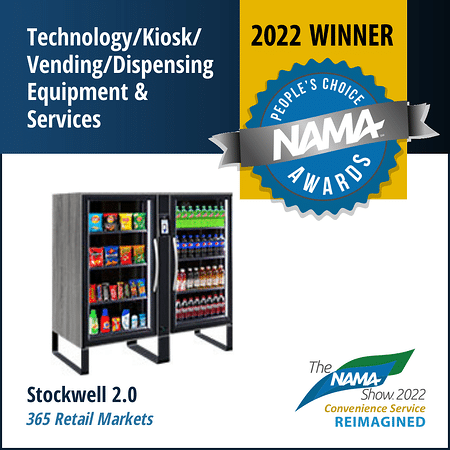 Your smart store is equipped for you! From lunch on the go to an afternoon pick-me-up.

The Stockwell 2.0 inside intelligence learns what products are selling and what's not! Take advantage of its insight and start giving your customers what they want and need.
An entire, larger side dedicated to refrigerated products in addition to ambient products on the opposite side.
A lighter and easier piece of equipment to move within client locations, half the weight of previous generation.
More merchandising space and support for a variety of product pushers on both refrigerated and ambient sides.
Improved processing power and product recognition accuracy on the edge, reducing bandwidth consumption.
Anonymous tap/insert credit card and GMA payment enabled via 365's Pico device.
Easier access via the front panel to all serviceable components for faster and easier machine maintenance.
For more information email sales@365smartshop.com.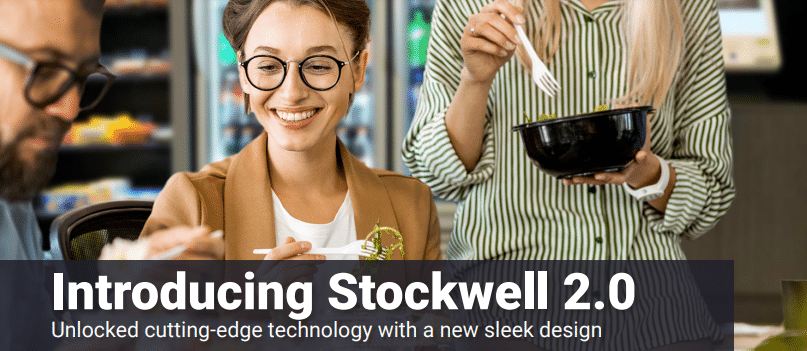 About 365 Retail Markets
365 Retail Markets is the global leader of self-service technology and services for the Contract Foodservice industry and is owned by McCarthy Capital and Joe Hessling. 365 has won many awards for their innovation and growth, including being named to the Inc. 5000 list of the fastest-growing private companies in the U.S. several times. Through their combination of MicroMarket, vending, and dining technologies, they offer the best in class point-of-service platform for the workplace. 365 offers a consolidated approach to operators seeking a streamlined system that consumers love to use.
365 has been pioneering innovation since 2009 and continues to revolutionize the market with superior technology, strategic partnerships, and ultimate flexibility in customization and branding. 365 is committed to capturing every single transaction, every single time, by delivering products that are secure, scalable, and reliable. For more information about 365 Retail Markets, visit www.365retailmarkets.com.