Reimagine Vending With CPI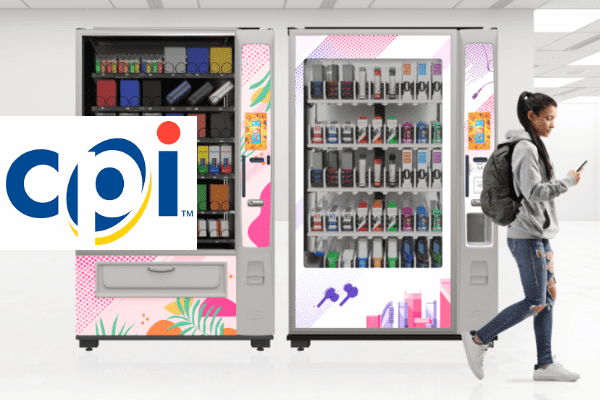 Vending continues to be one of the most effective methods to deliver products to consumers, but not all vending machines are alike and can deliver every product effectively.
Thankfully, CPI can help with this, they offer a portfolio of vending solutions that are designed to accommodate all product shapes and sizes with a unique delivery mechanism and ADA compliance.  
The vending machines that CPI offers enable businesses to meet their customers where they are, since most consumers in today's world prefer the self-service benefits of vending machines versus walking into a brick-and-mortar store.
Technology That Builds Your Brand
Unlike vending machines from the past that are big, bland boxes, that just distributed beverages or snacks, the vending machines that CPI offers are personalized vending machines that will help a business build its brand while distributing products at the same time.
From drinks and snacks to office coffee, to traditional products, CPI vending machines make it possible for business owners to offer their customers the products that they need wherever they are.
Their ambient merchant vending machine offers the flexibility of having up to seven shelves and a total selection range of 38-84 products while their merchant combo vending machine offers a shopping cart feature that's been proven to deliver 41% more sales than other vending machines.
The Right Vending Machine for Your Brand
Besides being fully customizable, CPI vending machines also offer business owners the ability to generate recurring revenue from their vending machines when they run sponsored ads.
The fully interactive CPI website makes it easy for business owners to design and customize their own vending machine so that they will know how it's going to look when it's placed at the right location.
The CPI team also serves a variety of industries other than vending including retail, self-serve kiosks, gaming and casino, financial institutions, and transport/parking.
Contact CPI
For more information about CPI and the solutions that they can offer you, contact them today at https://www.cranepi.com, or call 610-430-2700.