Welch's Offers Sparkling Energy Plus Energy Drink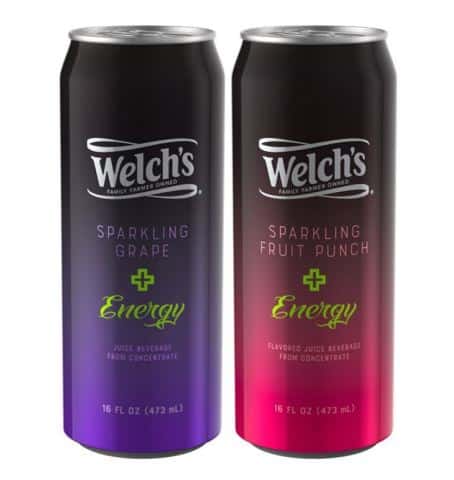 Welch's has introduced Welch's Sparkling Plus Energy for limited release.
"We saw a need in the market for an energy drink that actually tastes good," said John Walston, Welch's senior brand manager. "Welch's Sparkling Plus Energy delivers a great, bold taste and it's a product you can feel good about buying because, as always, 100 percent of our profits go back to our small family farmers. The energy drink category is expanding, and we are excited to evolve our portfolio with a new product offering outside of the juice aisle."
Welch's Sparkling Plus Energy expands the brand's portfolio into a new category with a focus specifically on a male audience. The product is currently available as part of a limited rollout in three markets, including New York City, Philadelphia and Baltimore/Washington D.C., with plans to expand into new markets.
Welch's Sparkling Plus Energy is available in two bold flavors – Sparkling Grape and Sparkling Fruit Punch – with a suggested retail price of $2.19 for a 16-ounce can.
For more information visit http://www.welchs.com/
---

Home | NEW PRODUCTS | Vending Newsletter sign up | Contact us | email press release
Also see: Beverages | Snacks | Foods | Brokers | Chips, Nuts, Energy bars, Fruit Snacks, Meat Snacks, Salty Snacks, Candy, Trail Mix, Gluten Free, Healthy Snacks, Pastries, Cookies, Crackers, Foods, Hispanic Snacks,
Also see: Product Brokers, Product Distributors, Micro Markets | Vending Companies USA
VENDING YELLOW PAGES DIRECTORIES:
Call us at 1-800-956-8363 or POST YOUR COMPANY