WAIĀKEA Offers Volcanic Water In Recycled Bottles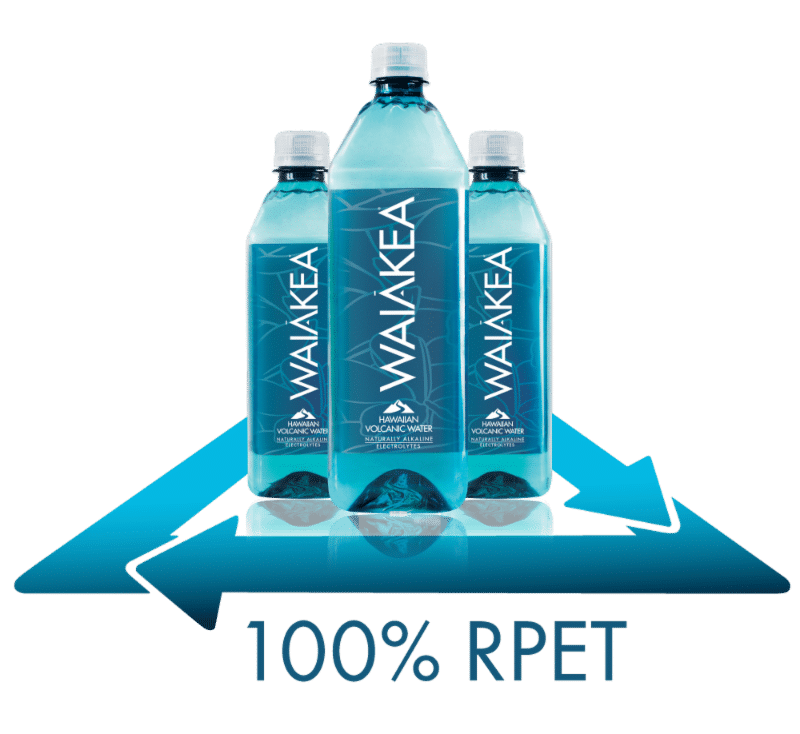 WAIĀKEA natural alkaline water with electrolytes comes in 100 percent recycled polyethylene terephthalate (RPET) bottles, a post-consumer recycled plastic.
WAIĀKEA volcanic water originates through both snowmelt and rain on the snowcapped peak of the active Mauna Loa volcano. Waiākea is then filtered through 14,000 feet of porous lava rock before re-emerging at its source, the Kea'au aquifer, located at the eastern base of the Mauna Loa volcano in a secluded area surrounded by rich and bio-diverse forest preserves.
Compared to regular or virgin plastic bottles, 100 percent RPET bottles use 85 percent less energy to manufacture, 90 percent less water and reduce carbon emissions over 90 percent. The bottles are also BPA free.
WAIĀKEA uses 33 percent renewable energy, 25 percent of which is geothermal, for all of its sourcing operations.
For every liter of water purchased, WAIĀKEA donates one week's worth of clean water to people in need throughout the world through Pump Aid, an organization that seeks to achieve lasting positive change in poor and disadvantaged communities by immproving the quality, availability and use of water and sanitation.
For more information visit https://waiakeasprings.com/
---

Home | NEW PRODUCTS | Vending Newsletter sign up | Contact us | email press release
Also see: Beverages, Snacks, Foods, Brokers, Chips, Nuts, Energy bars, Fruit Snacks, Meat Snacks, Salty Snacks, Candy, Trail Mix, Gluten Free, Healthy Snacks, Pastries, Cookies, Crackers, Foods, Hispanic Snacks,
Also see: Product Brokers, Product Distributors, Micro Markets | Vending Companies USA
VENDING YELLOW PAGES DIRECTORIES:
Call us at 1-800-956-8363 or POST YOUR COMPANY, GET NEW BUSINESS!