VitaCup Launches Cold Brew Coffee Energy Shots Infused With Vitamins and Double Caffeine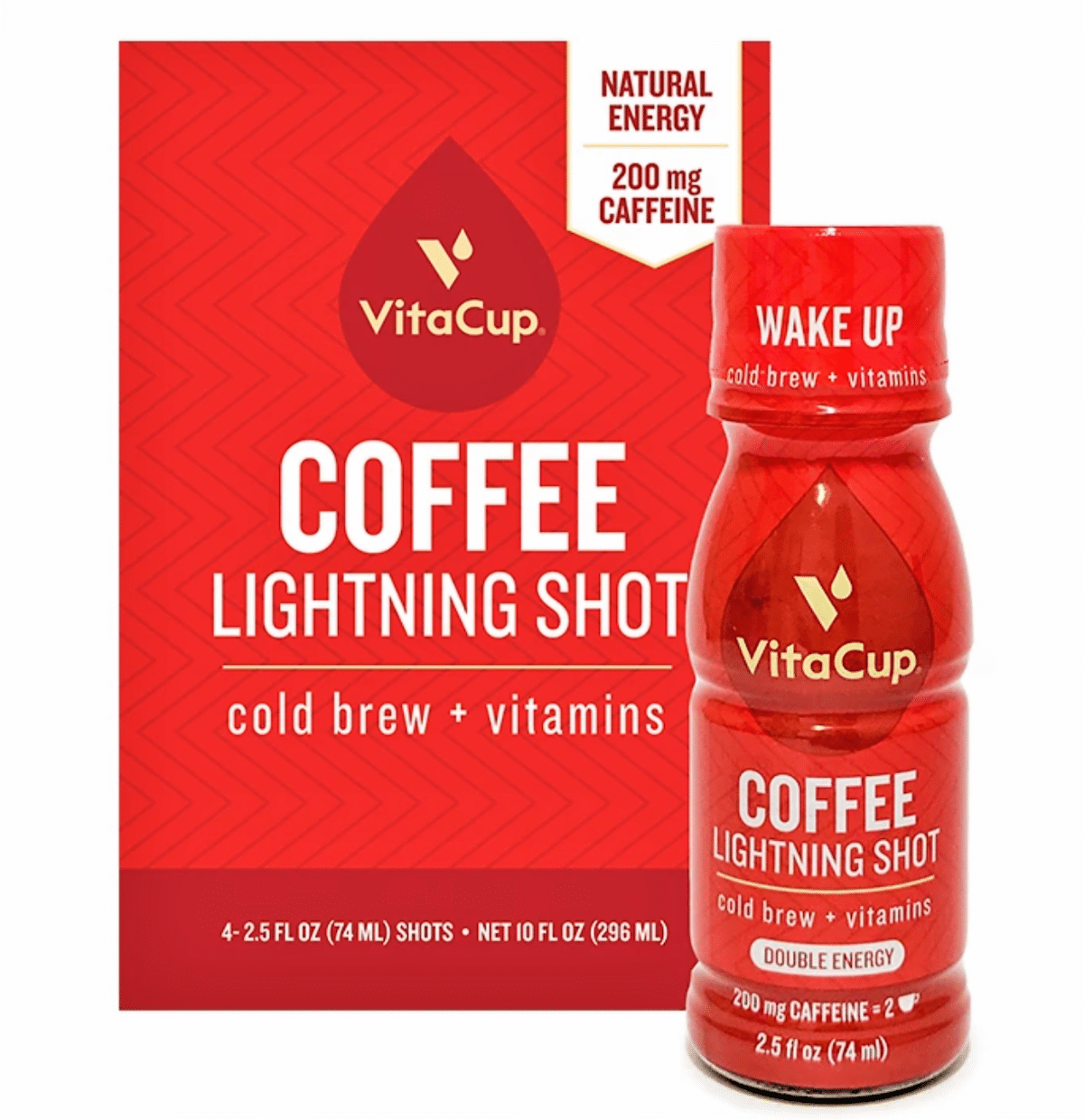 VitaCup, a provider of premium vitamin and superfood-infused coffees and teas, has entered the energy shot category with the launch of its cold brew Coffee Lightning Shots. A new way to supplement the daily vitamin intake and boost energy levels, the ready-to-drink Coffee Lightning Shots blend essential vitamins to wake up the body and mind with natural caffeine for a new kind of shot experience.
Lightning Shots feature a cold brew coffee concentrate made from organic, Fair Trade, dark roast coffee beans, infused with the brand's signature essential vitamin blend of B1, B5, B6, B9, B12, and D3 to give the body an extra boost of nutrients, along with extra natural caffeine from green coffee beans for double the energy.
Formulated with 200 mg of natural caffeine, they offer approximately two cups of regular coffee in one 2.5-ounce shot. Coffee Lightning Shots are available in two flavors, cold brew, a smooth black coffee, and vanilla cold brew, a sweet vanilla coffee.
"Our new Coffee Lightning Shots further establish VitaCup as an innovator in the infused beverage category and continues our mission of providing flavorful and convenient coffee and tea-based delivery methods for taking vitamins to support a range of health and wellness goals, including boosting energy," said Brandon Fishman, VitaCup founder and CEO.
Launched in 2017, VitaCup has pioneered a complete line of vitamin and superfood-infused coffees and teas, including single-serve pods and capsules, ground coffee and gourmet tea bags. The brand has earned recognitions including Beverage Industry's New Product of the Month, Kehe's Beverages Holiday Hot Products Award and 2018 Family Choice Award. A June 2019 SPINS update reported four VitaCup products ranking within the Top 25 Coffee Pods in the Natural Retail Channel, including the top spot for its top seller, the Genius Blend.
The brand is available nationwide through Vistar and other distributors.
For more information visit https://www.vitacup.com
---

Home | NEW PRODUCTS | Vending Newsletter sign up | Contact us | email press release
Also see: Beverages, Coffee, Cold Brew, Snacks, Foods, Brokers, Chips, Nuts, Energy Drinks, Energy bars, Fruit Snacks, Meat Snacks, Salty Snacks, Candy, Trail Mix, Gluten Free, Healthy Snacks, Pastries, Cookies, Crackers, Foods, Hispanic Snacks,
Also see: Product Brokers, Product Distributors, Micro Markets | Vending Companies USA
VENDING YELLOW PAGES DIRECTORIES:
Call us at 1-800-956-8363 or POST YOUR COMPANY, GET NEW BUSINESS!