Verve Coffee Roasters' Nitro Flash Brew Coffee
Cold brew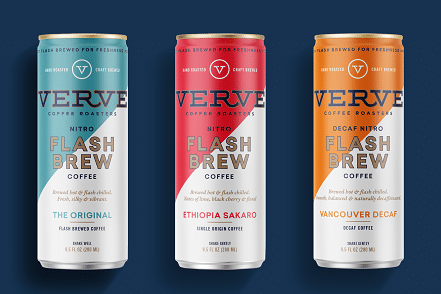 coffee continues to be one of the most popular beverages but most cold brew brands on the market today don't offer an authentic coffee flavor because that flavor is typically lost in the bottling process. 
California–based Verve Coffee Roasters realized that something was missing in the cold coffee market, that's why they stopped using the traditional process of steeping their coffee grounds in cold water, because they felt that process didn't capture the authentic flavor of their coffee.  
Instead of using the same methods as other coffee companies, the company started using a flash brew approach which involves brewing the coffee first, then chilling the coffee, before bottling it.  
A Flavorful Twist On Cold Coffee 
Most people who try Verve Coffee Roasters Nitro Flash Brew cold coffee are often surprised at how good the coffee tastes because they've grown accustomed to supermarket style cold brew coffee.  What makes Verve's flash brew cold coffee so unique is that once it's flash chilled, the coffee is then infused with nitrogen to keep it fresh.  
Verve Nitro Flash Brewed Coffee is real coffee for coffee fans. Their Ethopia Sakaro coffee contains hints of lime and black cherry while their Original is smooth, silky and a coffee to be enjoyed.  
No Creamers Or Additives 
When someone opens a can of Verve Nitro Flash Brew coffee, they can enjoy a delicious coffee taste without having to think about counting calories due to the additives which are common in other cold coffee brands. 
The company was founded by coffee fans, for coffee fans, and their commitment to brewing authentic coffee is shown with every bottle of their flash brewed coffee, based out of Santa Cruz, California.  To learn more about Verve Coffee Roasters' Nitro Flash Brewed Coffee, visit their website at www.flashbrew.com. 
Contact Verve Coffee Roasters concerning wholesale pricing: https://www.vervecoffee.com/pages/wholesale
---

 Home | NEW PRODUCTS | Vending Newsletter sign up | Contact us | SUBMIT PRESS RELEASE
Also see: Beverages, Coffee, Cold Brew, Snacks, Foods, Brokers, Chips, Nuts, Energy Drinks, Energy bars, Fruit Snacks, Meat Snacks, Salty Snacks, Candy, Trail Mix, Gluten Free, Healthy Snacks, Pastries, Cookies, Crackers, Foods, Hispanic Snacks,
Also see: Product Brokers, Product Distributors, Micro Markets | Vending Companies USA
VENDING YELLOW PAGES DIRECTORIES:
Call us at 1-800-956-8363 or POST YOUR COMPANY, GET NEW BUSINESS!