Vending And Micro Markets Help Build Coach Joe Crosby Jr.'s Comfort Foods Brand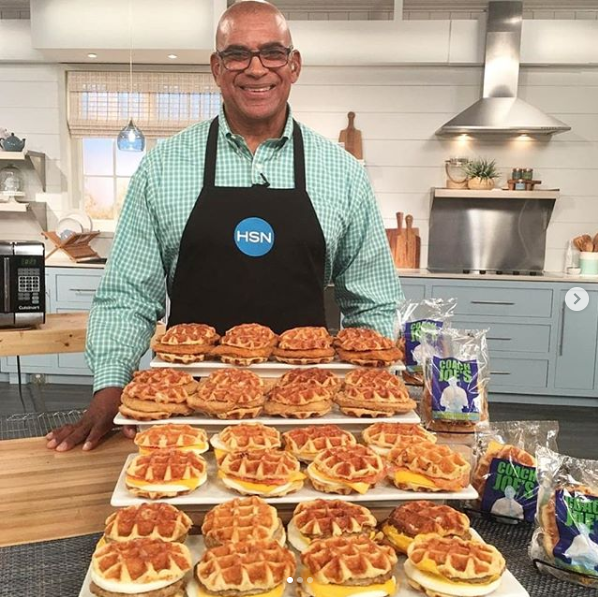 Vending has long served as an economical way for food companies to establish themselves as retail brands. Coach Joe's Market, an Atlanta, Ga.-based foodservice provider specializing in comfort food, is well on its way to becoming an established brand, thanks in large measure to a fortuitous meeting with Southern Refreshment Services, one of Georgia's largest refreshment services companies.
Since beginning with a small hot dog restaurant three years ago, company founder Joe Crosby, Jr. now has two Coach Joe's Markets and a wholesale food operation that delivers more than 100 menu items to stores and vending/micro market operators. The company is expanding on its already extensive menu of comfort foods with items like shrimp and grits.
The company has already made a name for itself, and its products can be found at the Atlanta airport, two Ace Hardware stores, an A to Zinc Health Store & Smoothie Bar, a high school recreation department, Coach Joe's Market retail stores, and on the Home Shopping Network.
The company uses different co-packers and uses a third-party shipper to deliver frozen product.
"The key to it is, you've got to have a good product," said Crosby, who spent 27 years coaching football for Georgia colleges before embarking on his second career in foodservice.
Crosby thinks it is important for people to be able to enjoy beef stroganoff or shrimp mac and cheese without having to leave their office. "It's restaurant grade level," Crosby said. "We just try to make the person feel like they're at home. Our tamales have hickory smoked pulled pork in them."
Crosby began his foodservice career in 2013 with a 600-square-foot hot dog restaurant in Clayton, Ga. He was convinced he had a great hot dog.
In 2015, he launched a food truck selling hot dogs and shrimp burgers on weekends at a marina at Lake Rabun in Lakemont, Ga. "We just exploded," he said. "We just kept developing product till we found our niche." He closed the store and stored his food for his food truck at a commissary near the lake.
In 2016, Crosby was serving his waffle stacker sandwiches at a Sysco show where he met people from Southern Refreshment Services, the Tucker, Ga.-based refreshment services operation. The Southern Refreshment team asked him if he could provide products for their micro markets. Crosby and his team developed sandwiches, tamales, entrees and cookies for the company.
The products sold well at Southern Refreshment Services' micro markets, and Crosby was encouraged to offer his comfort foods to other convenience service operators as well as retailers. He has displayed his offerings at the Atlantic Coast Expo in Myrtle Beach, S.C. for the last two years. He recently sold his food truck to another entrepreneur that sells under the Coach Joe's brand.
Twenty menu items will be available for vending and micro markets in Vistar warehouses, said Paul Quintavalla, a principal at Icon Marketing LLC, a marketing firm in Broomall, Pa., which represents Coach Joe's Market nationwide.
Products sold in refrigerated machines take one to one and a half minutes to heat in a microwave oven, Quintavalla said, and two to three minutes from a frozen machine. Product is also available in 2-pound trays for "scoop and serve" offerings in cafeterias, Qunitavalla said.
Crosby considers himself blessed to have experienced the growth his business has achieved.
"Playing sports teaches you to not give up," Crosby said. He compared foodservice to football: you find the best players you can find to execute the plays. "We're going to find the best chicken, the best pork, the best ingredients; that way you can come out with a great product," he said.
He hopes create a business he can pass along to his children.
Coach Joe's grab-and-go waffle stacker sandwiches include: pearl sugar; Southern fried chicken; spicy fried chicken; turkey sausage, egg and cheese; and pork sausage, egg and cheese. Other sandwiches include: beef tenderloin, egg and cheese croissant; Southern fried chicken biscuit; sausage biscuit; bacon, egg and cheese burrito; sausage, egg and cheese burrito; refried bean and cheese burrito; jalapeno and cheese tamale; beef tamale with Tomatillo Serrano sauce; pork tamale with Tamatillo Serrano sauce; chicken tamale with tomato chipotle sauce; and chicken tamale with Tomatillo Serrano sauce.
Entrees include: broccoli au gratin; mac and cheese; chipotle mac and cheese; corn pudding; creamed spinach; smokey black beans; sweet potato mash; smoked beef tenderloin Chateaubriand; smoked beef brisket; smoked pulled pork; shredded beef; and smoked pulled chicken.
Sandwiches include: Cuban on Ciabatta; jumbo hot dog on Parkerhouse bun; smoked beef brisket on Parkerhouse bun; smoked pulled pork on Parkerhouse bun; and veggie burger on Parkerhouse bun.
For more information visit Coach Joe's grab-n-go. (678) 691-3865‬, info@coachjoesmarket.com
By Jeff Adair, Editor
---

Home | NEW PRODUCTS | Vending Newsletter sign up | Contact us | email press release
Also see: Beverages | Snacks | Foods | Brokers | Chips, Nuts, Energy bars, Fruit Snacks, Meat Snacks, Salty Snacks, Candy, Trail Mix, Gluten Free, Healthy Snacks, Pastries, Cookies, Crackers, Foods, Hispanic Snacks,
Also see: Product Brokers, Product Distributors, Micro Markets | Vending Companies USA
VENDING YELLOW PAGES DIRECTORIES:
Call us at 1-800-956-8363 or POST YOUR COMPANY