Top 10 Energy Drinks Of 2020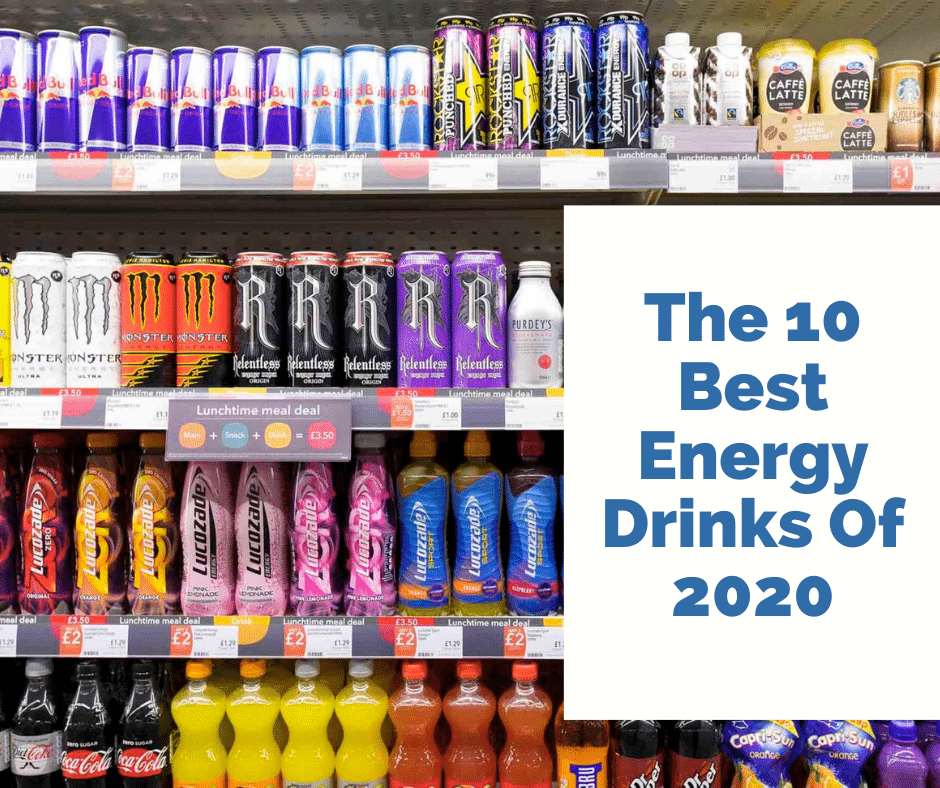 Energy drinks remain one of the most popular beverages in the world today because there's nothing more convenient than to grab an energy drink when you need an energy boost during the day. 
Even though there are many awesome energy drinks on the market today, the big question is which energy drinks are the best? 
In this article, we will break down the top 10 energy drinks for 2020, so that you will know which ones you should be offering to your vending or micro–market customers. 
Red Bull Energy Drink 
Red Bull can be considered to be the 'grandfather' of energy drinks because it's been around for so long. 
There's a good reason for Red Bull's longevity, they have a successful blend that consists of key ingredients like B-vitamins, taurine, caffeine, glucose, and sucrose.  
The company has continued to improve its formula since launching in the 1980s and this is one of the reasons why they are so popular across multiple generations of energy drink fans. 
Rockstar Energy Drink 
Rockstar is another energy drink that continues to enjoy enduring popularity because they offer a wide variety of versions of their energy drink including a popular zero carb energy drink. 
Besides having just caffeine, Rockstar's energy drinks also use a blend of herbs including guarana, ginkgo, and ginseng. 
Monster Energy Drink 
#3 on our list of the ten best energy drinks for 2020 is of course Monster Energy Drink. A can of Monster Energy Drink never disappoints since it contains 160 mg of caffeine and offers a good blend of ingredients that includes ginseng, glucose, guarana, carnitine, and taurine. 
Starbucks Refreshers 
New to the energy drink market is Starbucks Refreshers; these energy drinks come in three different flavors that contain 25% juice with green coffee extract and natural caffeine.  
Since these energy drinks contain caffeine that's equivalent to about a half cup of coffee, they have been getting a lot of attention lately, especially among people who want to enjoy energy drinks but don't want too much caffeine. 
SAMBAZON – Organic Amazon Energy Drink 
The new kid on the energy drink market is SAMBAZON, organic energy drink 
What makes this energy drink different than Red Bull and Monster energy drinks is that its blend is all–natural with acai berry as the primary ingredient.  
SAMBAZON is an ideal energy drink for people who want to enjoy the benefits of energy drinks without having to deal with a sudden energy loss about an hour after they consume it because this drink only has the equivalent of about a half cup of weak coffee. 
Living Essentials – 5 Hour Energy 
5 Hour Energy Drink is another well-known energy drink because it's available almost everywhere these days since its convenient size makes it an easy energy drink to consume when you're on the go. 
In one two-ounce bottle, there is no sugar, 200mg of caffeine, four calories, and plenty of great ingredients like taurine and B-vitamins. 
Zip Fizz Energy Drink 
Another newer energy drink that's gained popularity in recent years is Zip Fizz. This energy drink is a powder that you mix with water. 
The Zip Fizz powder contains 100 mg of caffeine, no sugar, green tea extract, B-12, and plenty of other ingredients that will will give you energy for about 4-6 hours. 
Toro Matcha Sparkling Ginger 
For consumers who want to enjoy an energy drink without a ton of caffeine, you may want to consider offering them Toro Matcha Sparkling Ginger. This energy drink only has about 60 mg of caffeine in each can and plenty of natural ingredients including ginger, juices, and Japanese matcha. 
VPX Redline Xtreme Energy Drink 
Designed specifically for athletes, this energy drink is all business and contains plenty of great ingredients that will give your consumers the 'fuel' that they need to make it through a busy day at work or their next workout session. 
One can of VPX Redline energy drink contains 258mg of caffeine, green tea extract, L-leucine, and plenty of other awesome ingredients that will fuel a body while replenishing it at the same time. 
Xyience Xenergy Drink 
Last of all on our list is Xyience Xenergy Drink. This energy drink is well-known because it's the official energy drink of the Ultimate Fighting Championship and contains no sugar, calories, or carbs. Your consumers can consume one with confidence knowing that you're not adding calories to their daily diets.  
All of the energy drinks mentioned in this article are of course available for sale right now, you can purchase online.
By Jeremy Raglin, Editor-Content Writer
---

Home | NEW PRODUCTS | Vending Newsletter sign up | Contact us | SUBMIT PRESS RELEASE
Also see: Beverages, Coffee, Cold Brew, Snacks, Foods, Brokers, Chips, Nuts, Energy Drinks, Energy bars, Fruit Snacks, Meat Snacks, Salty Snacks, Candy, Trail Mix, Gluten Free, Healthy Snacks, Pastries, Cookies, Crackers, Foods, Hispanic Snacks,
Also see: Product Brokers, Product Distributors, Micro Markets | Vending Companies USA
VENDING YELLOW PAGES DIRECTORIES:
Call us at 1-800-956-8363 or POST YOUR COMPANY, GET NEW BUSINESS!