SMASH Crispy Treats Are A Delicious Non-GMO Treat
SMASH Crispy Treats is a  gluten–free crispy rice treat. Each mouth-watering treat is made from only the very best simple, naturally gluten free and deliciously non-GMO ingredients for an instant sweet-tooth satisfying pick me up. It's a flavor smash up. Perfect right out of the bag or in your favorite recipe. Discover more ways to enjoy.
SMASH Crispy treats are truly one of the healthiest treats on the market today because they contain all-natural ingredients like Organic Crips Rice, Organic Cane Sugar, Tapioca Syrup, Grape Juice, and Sea Salt. 
These ingredients wi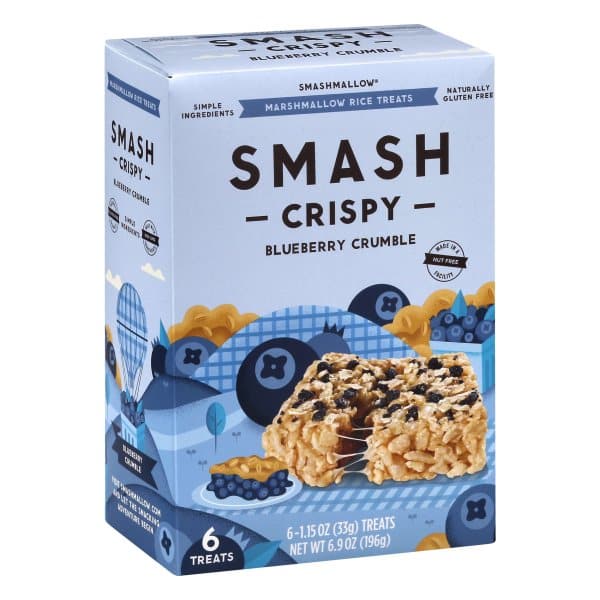 ll be a 'breath of fresh air' to people who are tired of reading labels and are unable to pronounce the ingredients that most of today's foods containers. 
Besides offering healthy ingredients, SMASH Crispy Treats are also non-GMO, gluten–free and Kosher Certified.  
With only 10 grams of sugar and 130 calories per serving, each SMASH Crispy treat is an ideal snack or it pairs well with any meal. 
What Do They Taste Like? 
If you're used to the flavor of the classic Rice Crispy Treat, you may be wondering what does a SMASH Crispy tastes like? 
The good news is that a SMASH Crispy has the same iconic taste like the traditional Rice Crispy treat, only better, because SMASH MALLOW, the company that produces them also has a variety of different flavors on the market today including Cinnamon Churro, Strawberries & Cream, Blueberry Crumble, Mint Chocolate Chip, and Homemade Vanilla. 
Besides making delicious SMASH Crispy treats, SMASH MALLOW also offers a variety of other sweet treats including keto gummy treats. 
SMASHCRISPY® JUST LIKE YOU REMEMBER, ONLY BETTER.
A better-for-you reinvention of the classic American favorites!
To learn more about SMASH Crispy, visit their website today at www.smashmallow.com.
By Jeremy Raglin, Editor-Content Writer
---

Home | NEW PRODUCTS | Vending Newsletter sign up | Contact us | SUBMIT PRESS RELEASE
Also see: Beverages, Coffee, Cold Brew, Snacks, Foods, Brokers, Chips, Nuts, Energy Drinks, Energy bars, Fruit Snacks, Meat Snacks, Salty Snacks, Candy, Trail Mix, Gluten Free, Healthy Snacks, Pastries, Cookies, Crackers, Foods, Hispanic Snacks,
Also see: Product Brokers, Product Distributors, Micro Markets | Vending Companies USA
VENDING YELLOW PAGES DIRECTORIES:
Call us at 1-800-956-8363 or POST YOUR COMPANY, GET NEW BUSINESS!