SkinnyDipped Cashews, The Next Big Thing In Healthy Snacks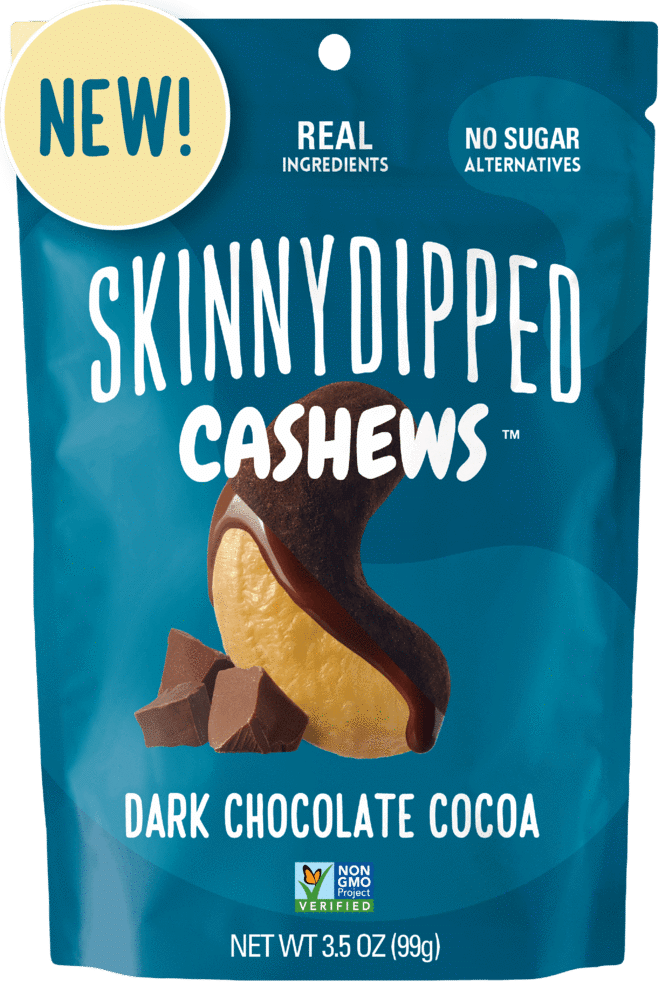 Summer is here and one thing that your customers will be looking for during the summer months is a healthy snack food that's made from natural ingredients.  
The good news is that SkinnyDipped has healthy snack foods that consumers will love thanks to the company's dipped  cashews, which are made with natural ingredients like dark chocolate, sea salt, and maple sugar instead of ingredients that are often hard to pronounce.
If 2020 is remembered for one thing, it will be the year that it became okay to enjoy snack foods once again, and SkinnyDipped cashews offer a delicious product that anyone can enjoy while also having confidence that what they are eating is good for them. 
About SkinnyDipped Cashews 
Founded by Val Griffith and her daughter, Breezy, SkinnyDipped cashews fulfills Val's lifelong passion for creating delicious foods that people will love.  
Besides their dark chocolate coca covered cashews, the company also makes a wide variety of other versions of their delicious cashews including dark chocolate salted caramel, peanut butter, coca, lemon bliss, espresso, super dark, raspberry and more! 
SkinnyDipped cashews make the perfect anytime snack, especially during the middle of the afternoon when most people want a meal replacement, or snack, which will keep them satisfied between meals. 
There's no denying that cashews taste great but what most people don't know is that they also offer a wide variety of health benefits including being great for the heart, eyes, skin, hair, and nails.  
What's even better is that cashews are an excellent source of fiber and when they are combined with chocolate, anyone who consumes them gets a powerful nutrient–packed snack! 
A Power–Packed Healthy Snack 
In today's world, just about everyone has their favorite sweet treat that they enjoy regularly but the truth is that most candies or other "sweet treats" on the market today contain high amounts of sugar, or man-made ingredients, that are not always the best for us to consume regularly. 
Unlike most chocolate treats sold at stores today, SkinnyDipped cashews have a thin layer of chocolate so anyone who enjoys them gets a delicious cashew taste with every bite while having just enough of the sweetness that they are craving. 
With less sugar than an average apple and as much protein as a traditional egg, SkinnyDipped cashews are an awesome treat that your customers can enjoy. 
To learn more about SkinnyDipped cashews, visit their website today at www.skinnydipped.com. 
---

Home | NEW PRODUCTS | Vending Newsletter sign up | Contact us | SUBMIT PRESS RELEASE
Also see: Beverages, Coffee, Cold Brew, Snacks, Foods, Brokers, Chips, Nuts, Energy Drinks, Energy bars, Fruit Snacks, Meat Snacks, Salty Snacks, Candy, Trail Mix, Gluten Free, Healthy Snacks, Pastries, Cookies, Crackers, Foods, Hispanic Snacks,
Also see: Product Brokers, Product Distributors, Micro Markets | Vending Companies USA
VENDING YELLOW PAGES DIRECTORIES:
Call us at 1-800-956-8363 or POST YOUR COMPANY, GET NEW BUSINESS!