Rudolph Foods' Southern Recipe Small Batch Pork Rinds Marry Taste, Health And Long Shelf Life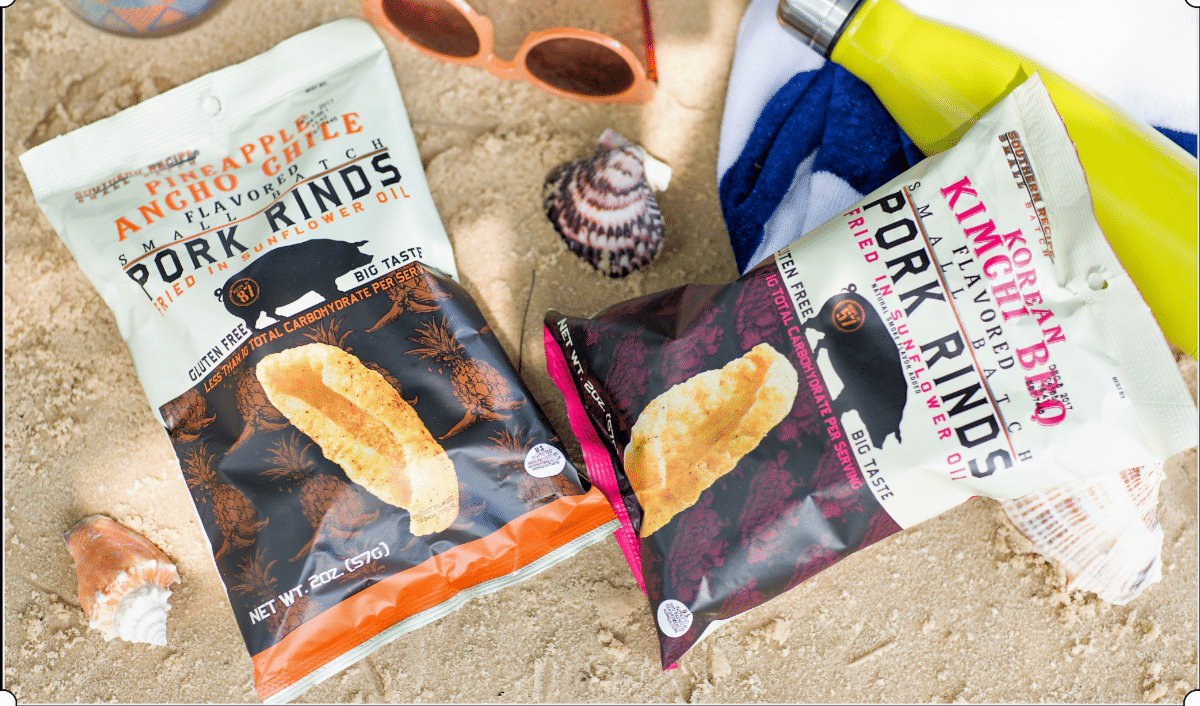 If you think snacks can't be tasty, healthy and have a long shelf life, you've never heard of Southern Recipe Small Batch pork rinds from Rudolph Foods.
The company decided to improve its products six years ago in response to rising customer interest in better-for-you foods, said Mark Singleton, vice president of sales for the company, one of the nation's largest private label producers of pork rinds in addition to its own brands.
"This is the best educated consumer in history," he said. "They wanted lower sodium, they wanted free from MSG, free from artificial color, and so with the very talented young people here at Rudolph Foods, we started working on the project, and we came out with a product that tastes better than anything we've ever done. It's now the number three or four pork rind brand in America in grocery, and we're doing just super in vending and micro markets."
The Southern Recipe Small Batch line includes Korean Kimchi BBQ, Pineapple Ancho Chile Pork, Sea Salt Cracked Black, Smoked Sea Salt Oven Baked and Spicy Dill Pork Rinds. Most of the snacks, which retail for $1.99 to $2.49, come in 2-ounce bags, while the Smoked Sea Salt Oven Baked comes in a 3.625-ounce bag.
One of the features Singleton is most proud of is the 270-day shelf life. "Pork rinds have had a 90-day shelf life for all of existence," he said.
"As we worked on the product, as we lowered the salt, and we looked at everything we did, we found a way to extend the code date from 90 days to 270 days," he said.
While he recognizes no retailer is going to keep the product in stock for 270 days, Singleton is nonetheless excited about the quality the product can sustain.
"What this does is it allows the product to stay great even longer," he said about the proprietary process the company uses to extend the shelf life. "It doesn't hurt to keep the product as protected as you can as long as you can. It's going to totally change the industry."
The Southern Recipe Small Batch line is manufactured in the company's New Hebron, Mississippi and Beaumont, California facilities. Most of the flavors in the Southern Recipe Small Batch brand have not been available in pork rinds, he said. In addition, "We're the only one with a baked line," he said.
"It's brought us a different eating occasion as well," he said for the line, as some of the new flavors have extended pork rinds to morning consumption in addition to afternoon and evenings.
The company will launch its first cheese pork rind for Pork Rind Appreciation Day on Feb. 3 in partnership with Coach Mike Ditka's Gridiron Greats Assistance fund, allowing people to win $2,500 and a year's worth of pork rinds. Participants enter a chance to win by watching an online video of Hall of Famer Jack Youngblood talk about overcoming challenges and answering a trivia question.
The convenience services channel is one of the fastest growing retail sectors for Southern Recipe Small Batch, Singleton said.
The products are available at Vistar and other vending and foodservice distributors.
For more information visit https://www.rudolphfoods.com/
Check out video https://www.porkrindappreciationday.com/
By Karen Scott, Publisher
---

Home | NEW PRODUCTS | Vending Newsletter sign up | Contact us | email press release
Also see: Beverages, Coffee, Cold Brew, Snacks, Foods, Brokers, Chips, Nuts, Energy Drinks, Energy bars, Fruit Snacks, Meat Snacks, Salty Snacks, Candy, Trail Mix, Gluten Free, Healthy Snacks, Pastries, Cookies, Crackers, Foods, Hispanic Snacks,
Also see: Product Brokers, Product Distributors, Micro Markets | Vending Companies USA
VENDING YELLOW PAGES DIRECTORIES:
Call us at 1-800-956-8363 or POST YOUR COMPANY, GET NEW BUSINESS!