RITZ Releases Crisp & Thins Barbecue Flavor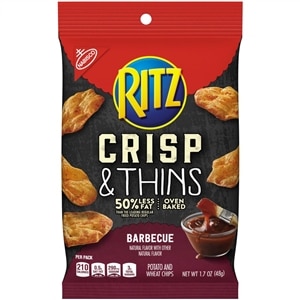 RITZ has finally answered the requests of their fans around the world by adding a barbecue flavor to their successful Crisp & Thins cracker line. This move is sure to excite people who want to eat healthy but don't want to give up on eating snack foods.  
This oven–baked chip has 50 percent less fat per serving than other traditional fried potato chips on the market today. It's sure to appeal to a large audience of consumers who still love eating chips and crackers but have been searching for healthier alternatives. 
Same Iconic Cracker, Only Better  
There's no doubt that RITZ is one of the most beloved and well-known companies in the world since their snack crackers have been a long time favorite for decades. 
As more people have become health–conscious over the years, the RITZ brand has evolved from a favorite snack cracker to a healthier cracker that comes in a variety of delicious flavors.  
Each bag of RITZ Crisp & Thins comes with 21 crackers, or enough for about two handfuls of chips. At roughly 130 calories per serving it's sure to be a hit with snack food fans who are craving a delicious snack. 
Besides their original and barbecue flavors, RITZ Crisp & Thins also comes in Salt & Vinegar, Bacon, Cream Cheese & Onion and Sea Salt as well. 
"Better for You" Chip Options 
The new RITZ Crisp & Thins flavors continue with Mondelez International's goal to continue making crackers that they consider to be "better for you", or a step above other chip brands on the market today. 
Like other famous snack foods and beverages on the market today, RITZ has been a mainstay in the snack market since 1934 and a delicious cracker that people know and love. They are especially popular at parties where people want snacking options other than regular potato chips. 
Since launching RITZ Crisp & Thin crackers in 2017, Mondelez International has succeeded in creating delicious crackers that also help satisfy night time cravings as well since their Crisp & Thins crackers, like the new barbecue flavor, offer a delicious BBQ taste without the calories that can be found in traditional barbecue flavored potato chips. 
"Better for You" snacking options are sure to be the next big thing in the snack market as more companies work hard to produce healthier versions of traditional snack foods that also have fewer calories. 
More Companies Are Releasing Oven–Baked Products 
With new chips and crackers like RITZ Crisp & Thins Original & Barbecue coming to the market. It's likely that we will also see an increase in oven-baked chips and crackers. 
One of the top benefits of oven–baked chips is that they have a healthier fat content versus chips that are deep–fried. This is especially good for anyone who wants to limit the amount of saturated fat that they allow in their diets. 
Ready to try the new RITZ Crisp & Thins barbecue flavor? Offered in 1.7-ounce bags for your vending machines or micro-markets. 
For more information visit https://www.ritzcrackers.com/products
---

Home | NEW PRODUCTS | Vending Newsletter sign up | Contact us | email press release
Also see: Beverages, Coffee, Cold Brew, Snacks, Foods, Brokers, Chips, Nuts, Energy Drinks, Energy bars, Fruit Snacks, Meat Snacks, Salty Snacks, Candy, Trail Mix, Gluten Free, Healthy Snacks, Pastries, Cookies, Crackers, Foods, Hispanic Snacks,
Also see: Product Brokers, Product Distributors, Micro Markets | Vending Companies USA
VENDING YELLOW PAGES DIRECTORIES:
Call us at 1-800-956-8363 or POST YOUR COMPANY, GET NEW BUSINESS!