Rising Retail Meat Snack Chef's Cut Enters Vending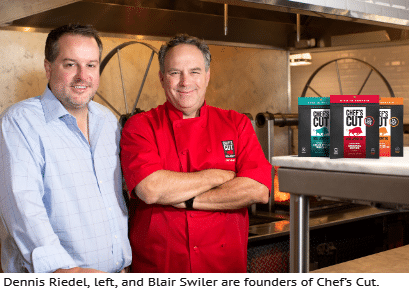 There's nothing quite like a tasty jerky. That's what Blair Swiler thought when he retired in Florida from a career as an executive chef. He made jerky in his kitchen and took it with him when he went caddying at a local golf course.
One day he was caddying with PGA pro Dennis Riedel and decided to share some of his homemade jerky.  Riedel loved it so much he convinced Swiler to go into business with him, selling the jerky to golf courses.
Today, Chef's Cut jerky is available on around 700 golf courses, but that's only half the story. Along the way, Swiler and Riedel managed to attract the interest of other investors, making Chef's Cut one of the top meat snack brands in the U.S. with more than $100 million in annual retail sales. And now that the brand has been introduced to vending, the growth is expected to continue.
Retail sales of meat snacks have increased every year from 2012 through 2017 in convenience stores, reaching $1.557 billion, making this category the second largest salty snack category after potato chips, according to Statista.
"Everyone is looking for portable protein options, so it continues to grow for the foreseeable future," said Ben Thankachan, executive vice president of vending and micro market sales at Chef's Cut. Thankachan joined Chef's Cut by way of Halen Brands, which made their initial investment in 2015.
"We were closely evaluating the meat snacks market and were looking for the best product that we could apply both our financial and people resources into when we identified this brand," Thankachan said. "We quickly made the decision to invest and join forces with the existing Chef's Cut team." The product has since experienced "explosive" growth, Thankachan said, and is available at nearly all mass merchants, supermarkets, warehouse clubs and convenience stores nationwide.
Meat snacks are seen as a "better for you" protein source, he said, and Chef's Cut stands out as it utilizes only the highest quality ingredients. The Honey BBQ chicken sticks have been approved for schools, he said, making it an especially good opportunity for vending operators.
Halen Brands came on board shortly after celebrity brand marketer Rohan Oza also discovered the snack on a golf course. "He (Oza) found it was the most amazing jerky he'd ever tried," Thankachan said. Oza has been instrumental in building Glaceau, Vitaminwater, Smartwater and Bai brands.
Chef's Cut's superior taste and texture is achieved by using top round beef sourced in the U.S., which is then marinated and smoked under a proprietary process, Thankachan said.
"The whole process takes longer," he said. "It's the way you would make something at home."
Chef Blair wanted to bring a restaurant type experience to the jerky category, and he succeeded! All Chef's Cut product is produced within the U.S.
To attract both men and women, Chef's Cut was one of the first jerky companies to use a black matte finish on its packaging, Thankachan said. The package features a bright red image of a bull against a solid black background with contemporary white lettering.
The vend product is available nationwide at Vistar and in various foodservice distribution houses.
For vending, the 1.25-ounce package offered comes 12 bags per box while the 1-ounce beef sticks come 16 sticks per display caddy and the 0.5-ounce beef sticks come in a 60-count display.
The bags are available in three flavors of beef – Original, Asian Style Terijaki, Chipotle Cracked Pepper and two white meat varieties – Honey Barbecued Chicken and Teriyaki Turkey. The beef sticks come in Original and Jalapeno Cheddar flavors.
Certified Management Group LLC is representing Chef's Cut in the vending and micro market channel.
Halen Brands' brands also include Owyn plant-based protein drinks, From the Ground Up healthy snacks and Joyfuls bit-sized chocolate treats topped with fruits, nuts and seeds.
For more information visit https://chefscutrealjerky.com, 855-456-2275.
By Art Bitze, Managing Editor
---

Home | NEW PRODUCTS | Vending Newsletter sign up | Contact us | email press release
Also see: Beverages | Snacks | Foods | Brokers | Chips, Nuts, Energy bars, Fruit Snacks, Meat Snacks, Salty Snacks, Candy, Trail Mix, Gluten Free, Healthy Snacks, Pastries, Cookies, Crackers, Foods, Hispanic Snacks,
Also see: Product Brokers, Product Distributors, Micro Markets | Vending Companies USA
VENDING YELLOW PAGES DIRECTORIES:
Call us at 1-800-956-8363 or POST YOUR COMPANY