Punch'd Energy Snack Enters Vending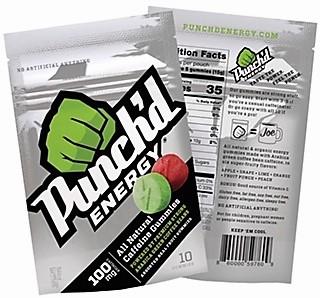 Punch'd Energy, a developer of a novel caffeine energy gummy snack, reports that its Punch'd Energy snack has proven very popular in vending tests. A favorite in e-commerce, Punch'd Energy now is available in the vending channel.
"This introduction marks a major development in the company's market presence, "said spokesman Gary Pinelli.
Packaged in eye-catching 1.6-ounce, reclosable gusseted film pouches containing 10 gummies, Punch'd Energy incorporates premium green Arabica coffee beans combined with six fruits: apple, grape, lime, orange, peach and "fruit Punch'd." The patented formula incorporating the fruit neutralizes the naturally bitter taste of the coffee beans.
Punch'd has been formulated as a healthier alternative to sugary snacks and serves to power mobile lifestyles.
According to Pinelli, the easy-to-read Punch'd label declares the ultimate in clean energy supplements.
"A pack of Punch'd has as much caffeine as a single cup of coffee. Each gummy is 10 mg of caffeine, 100 mg per pack," Pinelli explained. "Take them all at once or pace your caffeine intake for a long energy boost."
For more information visit https://punchdenergy.com/
---

Home | NEW PRODUCTS | Vending Newsletter sign up | Contact us | email press release
Also see: Beverages, Snacks, Foods, Brokers, Chips, Nuts, Energy bars, Fruit Snacks, Meat Snacks, Salty Snacks, Candy, Trail Mix, Gluten Free, Healthy Snacks, Pastries, Cookies, Crackers, Foods, Hispanic Snacks,
Also see: Product Brokers, Product Distributors, Micro Markets | Vending Companies USA
VENDING YELLOW PAGES DIRECTORIES:
Call us at 1-800-956-8363 or POST YOUR COMPANY, GET NEW BUSINESS!