Proper Snacks Launches New Salt And Vinegar Flavor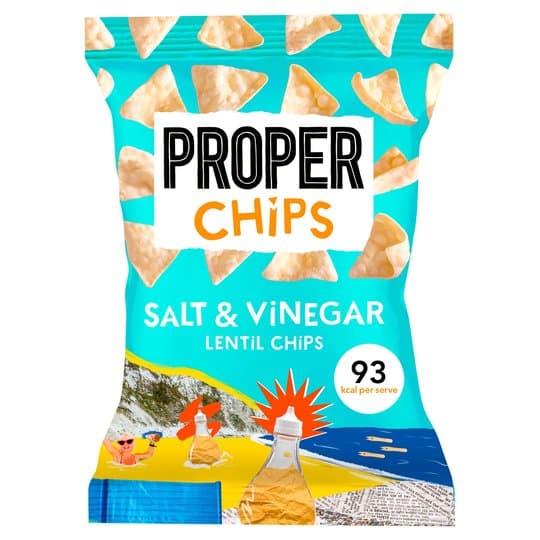 New from Proper Snacks, with more consumers asking for "better for you" snack options in this day and age, Proper is meeting that demand by expanding their chip line with a delicious Salt & Vinegar flavor. 
Unlike other chip brands on the market today, Proper creates healthy potato chips that don't include any ingredients that you can't spell. Their all-vegan chips are only seasoned with apple cider vinegar and sea salt, so you know what you're consuming with each delicious bite. 
What's even better about their new salt and vinegar flavor is that they contain 30 percent less fat than traditional potato chips and no citric acid! This is a great advantage to consumers who still want to have the ability to enjoy potato chips (crisps) without having to wonder about what they are consuming. 
Great Taste + Healthy Is A Win-Win For Proper 
Although healthy chips have always been on the market in some form, most brands sadly don't last long because they fail to meet the consumer requirement of tasting great. 
Thankfully, Proper has succeeded where other companies have failed, and they've evolved over the years from being a company that first specialized in producing popcorn, to a "better for you" brand that makes healthy snack foods that consumers love. 
Salt & Vinegar Proper Chips offer a classic lentil base with plenty of all-natural seasonings that make them the perfect chip to pair with any meal, or as a tasty middle of the day snack. 
The Demand For Potato Chips Is Expected To Increase  
Potato chips have always been one of the favorites "comfort foods" around the world, especially during Coronavirus. Recent statistics from Mordor Intelligence shows us that the global potato chip market is expected to grow by a CAGR of 4.40% by 2025. 
With most chips or crisps being high in fat and salt, Proper chips are a healthier alternative to the top chip brands on the market today. 
Besides their chip brand, Proper offers a diverse mix of snacks that appeal to different consumer tastes and lifestyles, but what's most important of all is that their chips are vegan, gluten–free, and contain all-natural seasonings. 
"More and more people are demanding healthier, snacking options throughout the day, but Taste remains the number one priority. Our latest flavor was created in direct response to this, made using a crispy, lentil base and nothing but natural seasonings. – Cassandra Stavrou Proper Co-Founder  
Consumers who enjoy Proper chips, or snacks, can have confidence that they are experiencing a delicious snack food that's also made with ingredients that are good for them and won't be harmful to the environment. 
The company seeks to source ingredients that will minimize their footprint on the resources of the world while focusing on building a diverse supply chain that has environmental sustainability at its focus. 
To learn more about Proper and their delicious Salt and Vinegar chips, visit their website at www.proper.co.uk. 
---

Home | NEW PRODUCTS | Vending Newsletter sign up | Contact us | email press release
Also see: Beverages, Coffee, Cold Brew, Snacks, Foods, Brokers, Chips, Nuts, Energy Drinks, Energy bars, Fruit Snacks, Meat Snacks, Salty Snacks, Candy, Trail Mix, Gluten Free, Healthy Snacks, Pastries, Cookies, Crackers, Foods, Hispanic Snacks,
Also see: Product Brokers, Product Distributors, Micro Markets | Vending Companies USA
VENDING YELLOW PAGES DIRECTORIES:
Call us at 1-800-956-8363 or POST YOUR COMPANY, GET NEW BUSINESS!