Pooki's Mahi Reintroduces 100% Kona Coffee In Fully Recyclable Pods In New FDA Certified Facility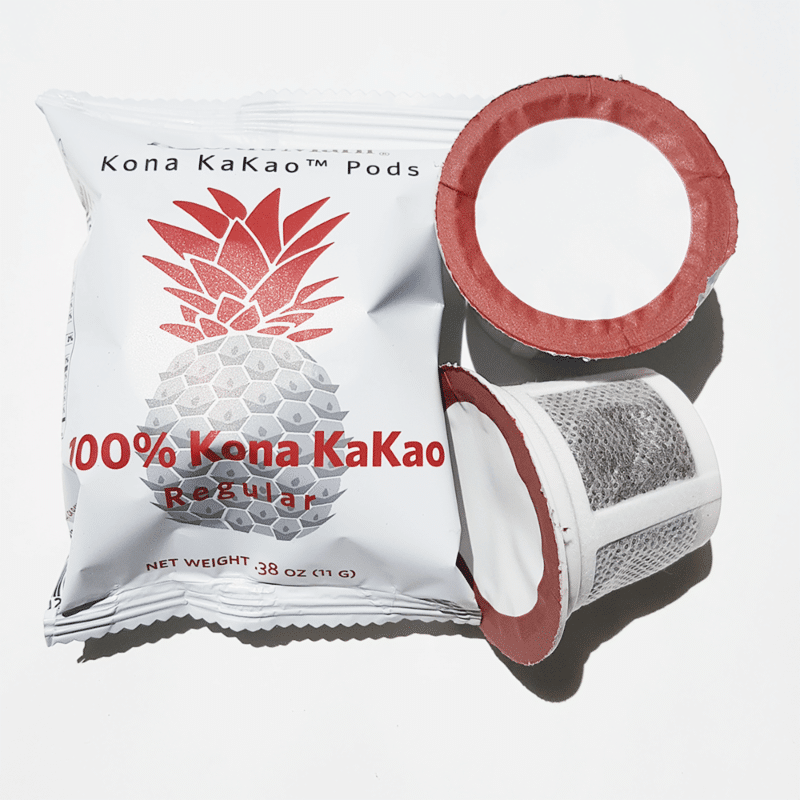 Pooki's Mahi, a private label manufacturer offering 100 percent single origin coffee and private label teas in recyclable pods and capsules,  recently reintroduced 100 percent Kona coffee in recyclable capsules that are compatible with brewers using 1.0 and 2.0 brewing technologies to brew single-serve coffee.
Pooki's Mahi Kona coffee capsules will be the first set of Kona KaKao coffee pods manufactured in the company's new FDA certified facility.
The company plans on expanding its Kona KaKao coffee pods and Matcha Man tea pods in 2019 with Kona Kafpresso and a variety pack of Kafpresso coffee capsules.
Pooki's Mahi manufacturing facilities use licensed quality graders and a sensory panel to finalize quality of each coffee capsule, Kona coffee roast profile and complete the bill of material specs.
Nutrition information, California Prop 65 and product information are designed onto Pooki's Mahi ship-ready packaging.
Leslie Magsalay-Zeller, founder and CEO, designed 100 percent Kona coffee pods to meet existing customers' requirements. Each Kona coffee pods are nitrogen flushed, formed with a high oxygen barrier, and compatible with coffee makers using 1.0 and 2.0 single-serve brewing technologies. Pooki's Mahi will expand its Kona KaKao coffee capsules in 2019 with single-origin, micro-lot coffee pods fit for the espresso coffee lovers.
"Pooki's Mahi is not in the business of offering low-quality Kona KaKao coffee capsules that are not recyclable or environmentally friendly," Magsalay-Zeller said in a prepared statement. "I transitioned Kona KaKao coffee product line into individually wrapped sustainable mesh pods per customers' feedback."
"Customers want a bold cup of 100 percent Kona coffee without paying extra. I kicked off Pooki's Mahi MeowHattan Project to overhaul operations," he said. "Offering recyclable 100 percent Kona capsules helps contain price increases." Pooki's Mahi has manufactured Kona KaKao coffee in 100 percent recyclable capsules since launching in mid2014.
Pooki's Mahi actively manages its supply chain, sources raw goods, and requires operations to work in a just-in-time model, Magsalay-Zeller said.
"Fast inventory turns to enable Pooki's Mahi more flexibility with product launches, meets deadlines quickly and keeps Kona coffee pods, Matcha Matcha Man tea pods and Kona Kafpresso capsules," he said. "I refuse to give Pooki's Mahi manufacturing business to firms that lack supply chain processes supporting a secure technology platform, poor supply chain management and is unable to manage inventory for raw goods."
For more information visit https://pookismahi.com/
---

Home | NEW PRODUCTS | Vending Newsletter sign up | Contact us | email press release
Also see: Beverages | Snacks | Foods | Brokers | Chips, Nuts, Energy bars, Fruit Snacks, Meat Snacks, Salty Snacks, Candy, Trail Mix, Gluten Free, Healthy Snacks, Pastries, Cookies, Crackers, Foods, Hispanic Snacks,
Also see: Product Brokers, Product Distributors, Micro Markets | Vending Companies USA
VENDING YELLOW PAGES DIRECTORIES:
Call us at 1-800-956-8363 or POST YOUR COMPANY