Peeled Snacks Organic Baked Pea Puffs, All-Natural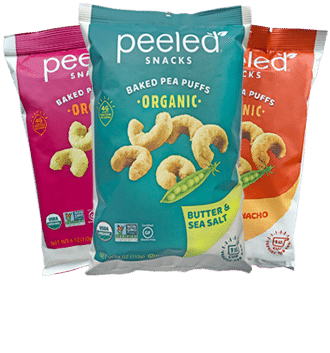 Made from all-natural green pea flour, Peeled Snacks baked pea puffs contain all-natural ingredients. These puffs are also non-GMO, gluten–free and what's most ideal is that consumers who try them are also getting a full serving of vegetables as well. 
Consumers in 2020 still want to snack but they also want to snack with confidence knowing that they aren't putting anything into their bodies that could potentially be classified as 'unhealthy'.  
The good news is that with Peeled Snacks Organic Baked Pea Puffs, these snacks are an ideal snack to enjoy because they taste great and will also replenish & energize the body at the same time. 
How Do They Taste? 
Peeled Snacks baked pea puffs taste great and are a perfect standalone snack that can be enjoyed any day of the week, or they pair perfectly with other foods to make a great meal! 
Since launching their company in 2005, the team behind Peeled Snacks has stuck to their commitment to creating healthy snacks and they offer multiple variations of their baked pea puffs including nacho, baked sea salt, aged parmesan, vegan ranch, and white cheddar. 
Made From Real Food  
Another great reason to try Peeled Snacks Organic Backed Pea Puffs is that they are one of the few snack foods on the market today that are made from real food since they are made from pea flour. 
As a B Corporation, the company is also committed to doing its part to make the world a better place while having higher standards so that its business also benefits the environment, farmers, truckers, and everyone who is involved in producing their organic baked cheese puffs. 
About Peeled Snacks
At Peeled Snacks, we believe you should feel good about snacking. That's why we work hard to make healthy foods that are good for you, good for the earth, and ultimately good for the world. This commitment to using our business for good also includes being a B Corporation. That's why we're thrilled to announce we have earned our B Corp recertification!
To learn more about Peeled Snacks Baked Pea Puffs, visit their website today at www.peeledsnacks.com.
By Jeremy Raglin, Editor-Content Writer
---

Home | NEW PRODUCTS | Vending Newsletter sign up | Contact us | SUBMIT PRESS RELEASE
Also see: Beverages, Coffee, Cold Brew, Snacks, Foods, Brokers, Chips, Nuts, Energy Drinks, Energy bars, Fruit Snacks, Meat Snacks, Salty Snacks, Candy, Trail Mix, Gluten Free, Healthy Snacks, Pastries, Cookies, Crackers, Foods, Hispanic Snacks,
Also see: Product Brokers, Product Distributors, Micro Markets | Vending Companies USA
VENDING YELLOW PAGES DIRECTORIES:
Call us at 1-800-956-8363 or POST YOUR COMPANY, GET NEW BUSINESS!