Pearl & Rose Premium Foods LLC Expands Its Kaze Natural Cheese Snacks Line To Convenience Services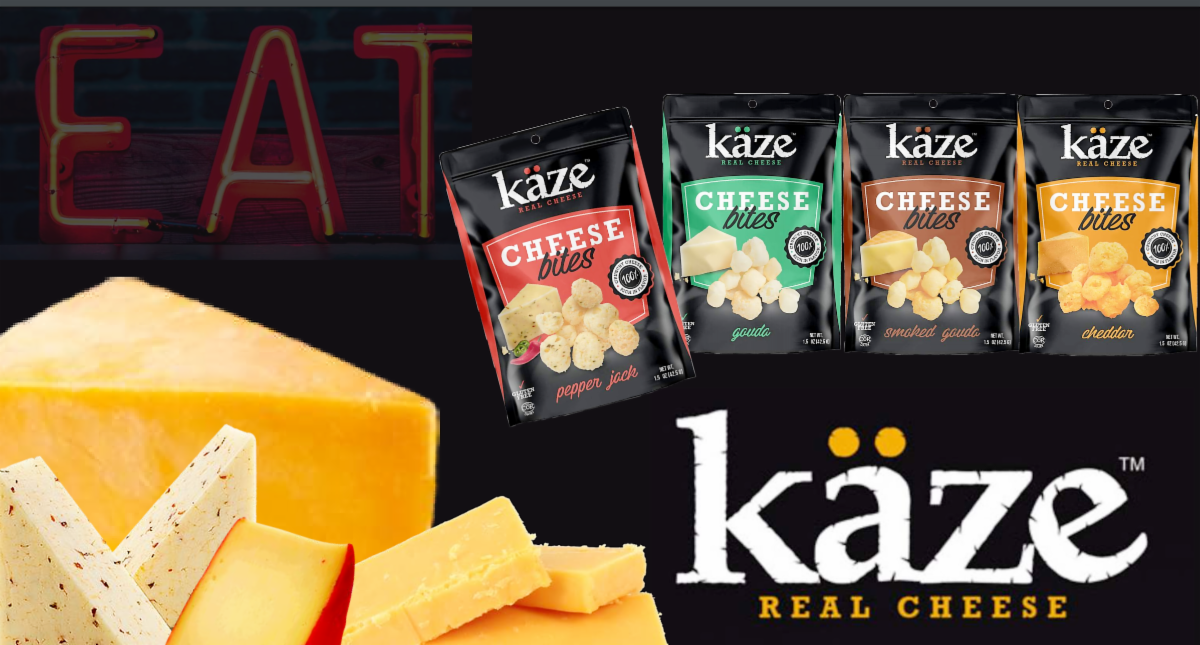 Pearl & Rose Premium Foods LLC, a manufacturer of cheese snacks, has expanded beyond its retail customer base to convenience services where it sees a strong opportunity for its Kaze brand natural, extended shelf life products. The company, owned by partners David Rosenberg and Sheldon Pearl, has moved from freeze drying to Enwave Corp.'s dehydration, a method of drying that uses a vacuum chamber that dries the product without freezing it.
"It does not need the prior freezing components that freeze dry needs," said Rosenberg. "For people who don't want to have high sugar or high carbs, this is a great alternative."
The company has focused on supermarkets that carry premium, natural snacks but is expanding to vending, convenience stores and airlines.
The team cuts 40-pound cheese blocks into half-inch cubes and places them into dryers where they lose the 45 percent of the weight that is moisture and transform into a crunchy substance that is round in shape, Rosenberg said. "It becomes crunchy because it loses all its moisture," he said. "It gives a great taste. It's 100 percent cheese, that's all it is."
The product has a 1-year shelf life and there is no refrigeration necessary.
All manufacturing, including packaging, is done in two facilities, one in Englewood, New Jersey and one in Canada.
The product is unique in that it is kosher and halal certified, Rosenberg said, in addition to being gluten-free, 100 percent natural, low in carbohydrates, and keto and paleo friendly.
The company uses different types of cheese, such as gouda, smoked gouda, cheddar and pepper Jack. "Our smoked gouda is wood smoked, high end smoked gouda," he said. "No one's doing that."
"The taste of freeze-dried cheese is not as good as Enwave technology," he said.
The product line currently consists of eight stock keeping units and four flavors – gouda, smoked gouda, cheddar and Pepper Jack – in two sizes: 1 ounce and 1.5 ounces. The products are priced at $1.79 to $2.59 for the 1 ounce and $2.99 to $3.99 for the 1.5 ounces.
Kaze means "cheese" in Yiddish.
"I understand brands," said Rosenberg, adding that he has already gotten good feedback from a vending customer in Newark, New Jersey. "It's very important to have a short, quick word. We've got to let everybody know about the latest Kaze craze."
"We're looking for the right partners that want to take it on," he said. The company currently has eight full-time employees and has exhibited at the Fancy Food Show and plans to go to more shows in 2020.
The company's distributor partners include Epicure Foods Corp. and Royal Food Distributors, and other distributor partners are being considered.
Rosenberg has been in food manufacturing all his life, being the son of the owner of Tami Great Foods, a pancake and waffle factory in Brooklyn, New York, where he learned about snack production. After 13 years at Tami, he developed his own food lines, including baby food, freeze dried fruit and cheese. He created a baby food brand, Itsy Bitsy Pantry, which served the Chinese market, prior to launching the Kaze brand.
The company also plans to launch a meltable yogurt line consisting of little 100 percent yogurt pieces that melt in the mouth.
For more information visit https://kazecheese.com
By Karen Scott, Publisher
---

Home | NEW PRODUCTS | Vending Newsletter sign up | Contact us | email press release
Also see: Beverages, Coffee, Cold Brew, Snacks, Foods, Brokers, Chips, Nuts, Energy Drinks, Energy bars, Fruit Snacks, Meat Snacks, Salty Snacks, Candy, Trail Mix, Gluten Free, Healthy Snacks, Pastries, Cookies, Crackers, Foods, Hispanic Snacks,
Also see: Product Brokers, Product Distributors, Micro Markets | Vending Companies USA
VENDING YELLOW PAGES DIRECTORIES:
Call us at 1-800-956-8363 or POST YOUR COMPANY, GET NEW BUSINESS!