Off The Eaten Path Snacks – 100% Natural, Vegetable Crisps & Puffs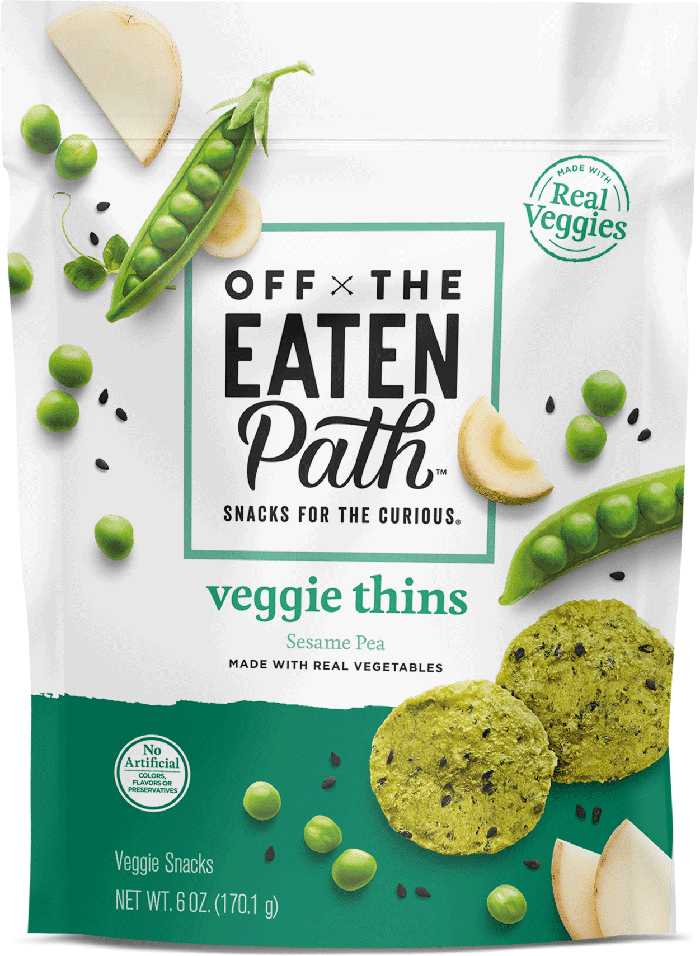 Are you searching for an all-natural snack to offer your customers? If so, you should consider Off The Eaten Path's 100% natural veggie crisps and puffs.  These delicious snacks are ideal because they don't contain any artificial ingredients, taste great, and they only have 160 calories per 1.5-ounce bag.
Following  the trend of 'better for you snacks', these vegetable crisps only contain all-natural ingredients like chickpeas and black beans, plus they also have 4 grams of protein per serving. 
The Perfect Anytime Snack 
In today's world, more people are snacking than ever before, especially during Covid-19, but the average snack food only offers calories, sugar, and carbohydrates.
With Off The Eaten Path's snacks, consumers who enjoy them can have peace of mind in knowing that they offer wholesome ingredients that are also Non-GMO, gluten–free, and contain no artificial flavors or preservatives. 
A New, Tasty Take On Real Veggies 
Vegetable crisps and other snacks have been around for years but most veggie snacks often contain vegetable flavors to make them taste like they are made from real vegetables. 
Besides offering a fresh take on veggie crisps, Off The Eaten Path offers a wide variety of versions of their veggie crisps including: 
Chickpea Veggie Crisps – Made from rice, chickpea

,

 and purple sweet potatoes

.

 

Hummus Crisps – Made from

 rice, chickpea

,

 and natural spices including oregano and rosemary. 

 

Veggie Puffs

 – Two different flavors including white cheddar and spicy cheddar. 

 

Veggie Thins

 – A delicious baked crisp made with savory herbs and spices. 

 
Retailing for $2.98 per bag, these vegetable crisps are sure to be a hit with health-conscious consumers who want to enjoy a healthy snack at the end of the day, instead of eating something that they may regret later. 
To learn more about Off The Eaten Path's Veggie Crisps, visit their website at https://www.offtheeatenpathsnacks.com.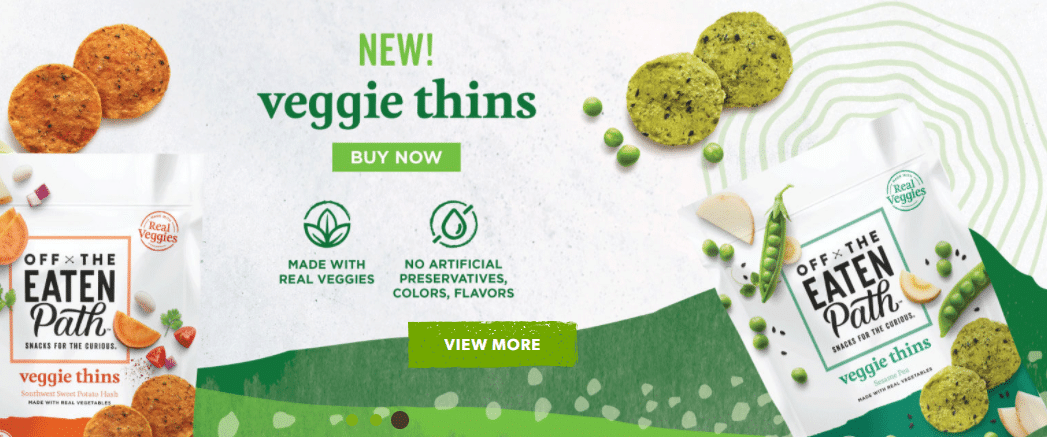 ---

 Home | NEW PRODUCTS | Vending Newsletter sign up | Contact us | SUBMIT PRESS RELEASE
Also see: Beverages, Coffee, Cold Brew, Snacks, Foods, Brokers, Chips, Nuts, Energy Drinks, Energy bars, Fruit Snacks, Meat Snacks, Salty Snacks, Candy, Trail Mix, Gluten Free, Healthy Snacks, Pastries, Cookies, Crackers, Foods, Hispanic Snacks,
Also see: Product Brokers, Product Distributors, Micro Markets | Vending Companies USA
VENDING YELLOW PAGES DIRECTORIES:
Call us at 1-800-956-8363 or POST YOUR COMPANY, GET NEW BUSINESS!