Ocean Spray Brew – The Next Big Thing in The Cold Brew Coffee Market?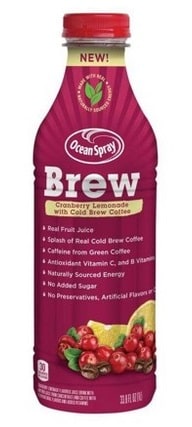 Cold Brew Coffee + Juice? This sounds like a winning combination for Ocean Spray as the internationally known agricultural cooperative recently announced that they are releasing a new, one-of-a-kind drink that's a combination of cold brew coffee and real fruit juice. 
Innovation has been the word that can best describe Ocean Spray over the last decade as they've released many new products that have helped them to stay competitive in these changing times, especially as more consumers want healthy caffeinated beverages.  
Their Brew beverage is another awesome drink that they've added to their successful line of products that offer nutrition while satisfying the changing needs of consumers around the world. 
Natural Energy 
Unlike some energy drinks on the market today that only have chemicals or high amounts of other vitamins, Brew offers consumers a few basic things, coffee, vitamins, and natural juices.  
What's great about Ocean Spray is that their beverages are never boring. Consumers can get Brew in two different delicious flavors: Cranberry Blueberry with Cold Brew Coffee, or Cranberry Lemonade with Cold Brew Coffee. 
40 Milligrams of Caffeine  
Each bottle of Brew offers Colombian Coffee or 40 milligrams of caffeine. This is equal to drinking about a half cup of coffee, but what's better is that instead of just drinking a cup of coffee, consumers who try Brew will also be consuming vitamins including Vitamin C, Vitamin B, and real fruit juices that don't have any sugar, preservatives, artificial flavors or colors. 
As more consumers move to drink energy drinks, Ocean Spray's decision to release Brew to the market is the right time for them since consumers also want healthy energy drinks that are not packed with dyes, colors, preservatives, or other potentially harmful chemicals.  
Brew is a huge addition to the health food market because most people who watch what they eat also consume coffee on a regular basis so it's going to be a win-win. 
Meeting Consumer Demand  
Founded in 1930, Ocean Spray is a cooperative of hundreds of cranberry farms around the world. Thanks to their forward-thinking decisions, they've remained a brand that people know and love.  
Ocean Spray continues to meet the demands of consumers with Brew. Anyone who grabs a bottle will enjoy the obvious health benefits from the antioxidants and vitamins while getting a dose of caffeine that they also are craving as well. 
More Coffee Beverages to Come from Ocean Spray? 
The company continues to add new products to its health and wellness portfolio. As 2020 unfolds we can expect to see Ocean Spray release more new products to the market as they are intent on transforming their company from a farmer-owned cooperative that's mostly known for their cranberries, to a company that offers a wide variety of delicious and healthy products.  
With the demand for energy drinks showing no sign of slowing down, it's likely that we will see more flavors from the Ocean Spray Brew line as consumers become acquainted with their cold brew coffee and choose the natural ingredients of Ocean Spray beverages over other competitors. 
For more information visit https://www.oceanspray.com/en/Products/
---

Home | NEW PRODUCTS | Vending Newsletter sign up | Contact us | email press release
Also see: Beverages, Coffee, Cold Brew, Snacks, Foods, Brokers, Chips, Nuts, Energy Drinks, Energy bars, Fruit Snacks, Meat Snacks, Salty Snacks, Candy, Trail Mix, Gluten Free, Healthy Snacks, Pastries, Cookies, Crackers, Foods, Hispanic Snacks,
Also see: Product Brokers, Product Distributors, Micro Markets | Vending Companies USA
VENDING YELLOW PAGES DIRECTORIES:
Call us at 1-800-956-8363 or POST YOUR COMPANY, GET NEW BUSINESS!