NAMA Education Sessions To Probe Product Trends For Convenience Services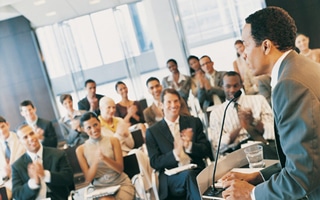 Products are the life blood of the convenience service industry. Vending, micro market and refreshment service operators will have a chance to get up to speed on product trends from experts from some of the nation's top product manufacturers and nutrition and wellness experts at The NAMA Show, starting tomorrow and running through April 26 at the Las Vegas Convention Center. Beginning with a pre-conference session today, the educational sessions will continue through Friday,
Tomorrow morning, from 8:30 to 9:30 a.m., Meghan Liefeld, director of consumer insight and category management at Danone, will help operators navigate key beverage trends, including how to think about the unique role of plant-based beverages, how consumers view cold brew versus iced coffee, and coffee customization and the implications for a best-in-class coffee bar.
Simultaneously on Wednesday, from 8:30 to 9:30 a.m., Chris Mittelstaedt, founder and CEO of The FruitGuys, will speak on the role fruit plays in safety at work. The discussion will explore the history, trends and regulations that have evolved, with a focus on current customer needs and new FDA requirements around food safety and produce handling.
From 9:45 to 10:45 a.m. Wednesday, the focus switches to tea, a category undergoing a fundamental shift as consumers prioritize health and wellness. A panel session will provide an overview of the different types of tea, consumer trends and the premiumization of the category.
Panelists include: Vanessa Dew, co-founder and CSO of Health-Ade Kombucha; Abbe Kuhn, beverage innovation director at Unilever; Linda Appel Lipsius, co-founder and CEO of Teatulia; and Alison Slater, senior manager at The Tea Company at Unilever Food Services.
Another session at 9:45 to 10:45 a.m. Wednesday will focus on how to sell healthy products. This presentation will provide a glimpse into how consumers shop the on-the-go nutrition category, what product attributes are important to consumers, and real-time data on how these products perform in a micro market environment. Presenters include Jean Terminiello, national director of immediate consumption at Glanbia Performance Nutrition, and Bryan Crowley, CEO of Soylent.
At 11 a.m. to noon Wednesday, a session will focus on the opportunity of occasion-based eating. David Grotto, senior wellbeing business partner of Kellogg and John Hostetler, director of category management and business analytics at Kellogg, will discuss Kellogg's proprietary research on "occasions," or the where, when, and what behind consumer purchase decisions.
From 9 to 10 a.m. Thursday, a panel of nutrition and wellness experts will explore the "better for you" trend, food label "literacy" and what drives consumer purchases. The panel includes: Lucille Beseler, president of the Academy of Nutrition and Dietetics; Elizabeth Mitas Vegas, industry advisor of strategic alliances for the Alliance for a Healthier Generation; and Sylvia Rowe, president of SR Strategy LLC.
On Friday, from 10 to 11 a.m., David Henkes, senior principal for the Technomic Advisory Group, will discuss the NAMA Industry Census, particularly as it relates to snacks.
For more information visit https://www.namanow.org/events/thenamashow/
By Karen Scott, Publisher
---

Home | NEW PRODUCTS | Vending Newsletter sign up | Contact us | email press release
Also see: Beverages, Snacks, Foods, Brokers, Chips, Nuts, Energy bars, Fruit Snacks, Meat Snacks, Salty Snacks, Candy, Trail Mix, Gluten Free, Healthy Snacks, Pastries, Cookies, Crackers, Foods, Hispanic Snacks,
Also see: Product Brokers, Product Distributors, Micro Markets | Vending Companies USA
VENDING YELLOW PAGES DIRECTORIES:
Call us at 1-800-956-8363 or POST YOUR COMPANY