Matt's Cookies Introduces 2-Pack Snack Pack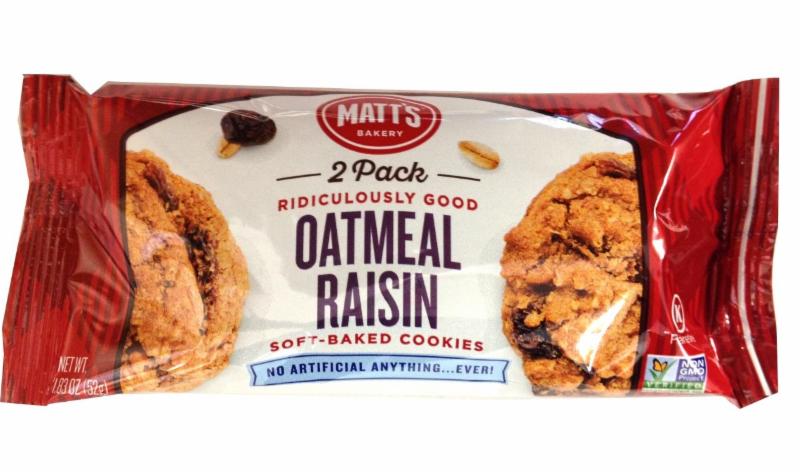 Matt's Cookies, featuring all-natural, soft-baked cookies, has introduced a 2-pack serving in a 60-count case. Offerings include chocolate chip, double chocolate, oatmeal raisin, peanut butter, peanut butter chocolate chip, cranberry walnut, Matt's Zion fig bars, Matt's Dutch apple Zion fig bars, Matt's whole wheat Zion fig bars and Matt's raspberry Zion fig bars.
The company, started in 1979, uses all-natural ingredients, and packages the cookies while warm to lock in the fresh-baked taste. The cookies are hand packed because of each cookie's unique size and shape.
To ensure high quality taste in every cookie, a small amount of salt is added to provide a salty flavor and enhance the flavor of the other ingredients such as sugar and vanilla.
A special blend of plant-based oils is used that consists of sustainable palm oil and canola oil.
Dextrose, a natural sweetener made from corn that is less sweet than cane sugar, gives a light and cool taste.
Invert syrup is used to sweeten the products that is less prone to crystallization than other sugars, making it more likely to keep the cookies softer and moister than other sugars.
There is also a mix of natural flavors to add additional depth and dimension to the cookies, including natural apple flavor, natural butter flavor, natural lemon oil, natural orange oil, natural vanilla flavor, peanut butter flavor and natural raspberry flavor.
For more information visit https://www.mattscookies.com/, 847-537-3888.
---

| Home | NEW PRODUCTS | Vending Newsletter sign up | Questions? Contact us | email press release
Also see: Beverages | Snacks | Foods | Brokers | Chips, Nuts, Energy bars, Fruit Snacks, Meat Snacks, Salty Snacks, Candy, Trail Mix, Gluten Free, Healthy Snacks, Pastries, Cookies, Crackers, Foods, Hispanic Snacks,
Also see: Product Brokers, Product Distributors, Micro Markets | Vending Companies USA
VENDING YELLOW PAGES DIRECTORIES:
Call us at 1-800-956-8363 or POST YOUR COMPANY