La Colombe Coffee Roasters Introduces Cold Brew Shandy Lemonade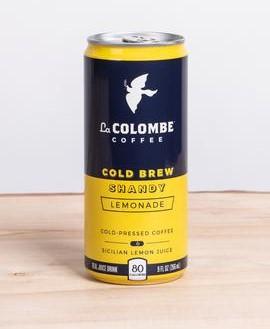 La Colombe Coffee Roasters has introduced its first-ever Cold Brew Shandy Lemonade, a hybrid of smooth cold-pressed coffee and sweet lemonade made from real Sicilian lemons, then infused with microbubbles for that texture only found in La Colombe beverages.
First introduced in July 2018 on-tap as a pilot program in select La Colombe cafes, product has launched in a ready-to-drink can nationwide for purchase on www.lacolombe.com. Cold Brew Shandy Lemonade offers a new take on the coffee with the subtle sweetness of lemonade blending with the brand's new light-roasted organic Pure Black Colombian cold brew.
Historically, citrus notes are often found in high quality coffee beans, lending a natural fit to pair the smooth taste of Pure Black cold brew with the refreshing citrus flavor profile of traditional lemonade. La Colombe's Cold Brew Shandy Lemonade utilizes lemons sourced from centuries-old groves along the Mediterranean coast in Sicily, Italy, where for more than 1,200 years, residents have  been cultivating the tart citrus and living among verdant orchards speckled with the sunshine colored fruits.
"It's the result of tinkering with lemons and lemonade concoctions in my home kitchen with my children. We are lemonade people. I proudly took the result to work to share with the team and it didn't take long before we were adding cold brew to it," said La Colombe co-founder and CEO Todd Carmichael. "We tested the concept in our cafes, on-tap, and it was a rage from the beginning. Turns out that the right lemon and coffee are a dream together – a perfect twist on a classic summer drink."
Each can of Cold Brew Shandy Lemonade has 90 mg natural caffeine and is an excellent source of vitamin C (180 percent Daily Value). For more information on Cold Brew Shandy Lemonade, the nutritional value, or to find out which retailers are carrying the can, visit the website.
Cold Brew Shandy Lemonade is now available at select La Colombe cafes and online at www.lacolombe.com.
1 800-563-0860, help@lacolombe.net
---

| Home | NEW PRODUCTS | Vending Newsletter sign up | Questions? Contact us | email press release
Also see: Beverages | Snacks | Foods | Brokers | Chips, Nuts, Energy bars, Fruit Snacks, Meat Snacks, Salty Snacks, Candy, Trail Mix, Gluten Free, Healthy Snacks, Pastries, Cookies, Crackers, Foods, Hispanic Snacks,
Also see: Product Brokers, Product Distributors, Micro Markets | Vending Companies USA
VENDING YELLOW PAGES DIRECTORIES:
Call us at 1-800-956-8363 or POST YOUR COMPANY