Kitu Life's Super Coffee Brings Shelf Stable, Healthy RTD Coffee To Convenience Services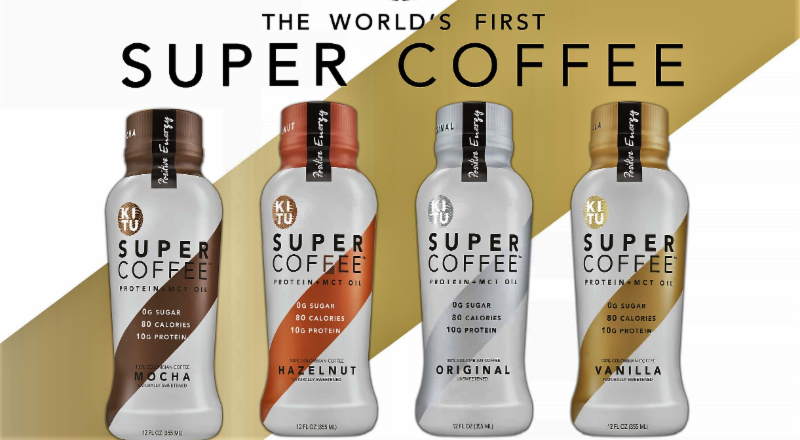 Super Coffee, a ready-to-drink (RTD) coffee made from organic Colombian coffee with lactose-free protein and MCT oil from coconuts, without milk and sugar, has made major headway in the grocery channel and has been introduced to the convenience services channel.
Super Coffee from Kitu Life distinguishes itself in the RTD coffee market in being fully shelf stable and delivering exceptional health benefits. The North American RTD coffee market is expected to grow at a combined annual growth rate of 2.7 percent and reach $2.643 billion by 2023, according to Mordor Intelligence.
Brothers Jim, Jake and Jordan DeCicco, company founders, pitched Super Coffee on Shark Tank as a performance motivated, healthy drink.
"It's amazing how many people are knocking on the door right now here," said Jack Martin, vice president of business development at Kitu Life. "The business is growing like crazy."
Martin, a longtime coffee industry veteran, came across Kitu Life a few years ago and recognized the potential. He considers Super Coffee a "healthy" energy drink as well as a coffee drink. "Everything we do is sugar free, because we use monk fruit juice as a sweetener," he said.
A 12-ounce bottle of naturally sweetened, vanilla flavored Super Coffee has zero grams of sugar, 10 grams of protein and 80 calories. The drink is also gluten-free, lactose-free, soy-free and non-GMO.
The product has already outperformed other RTD coffees at Wegmans Food Markets, a Rochester, N.Y. based supermarket chain, according to a 2018 study Kitu Life published.
"The biggest thing is it's really on mark with the ingredients that we put into it, between the protein and the MCT oil and the fact that it is keto diet compliant, which seems to be a hot button for everybody, along with the fact that it's organic Colombian coffee," Martin said. "You can be healthy and refreshing at the same time. That's really what's gotten this going."
"Everything we do is shelf stable," Martin said. The product is made by Steuben Foods.
Since launching its Super Coffee drinks, the company has expanded into other products, such as espressos and creamers. It is also introducing multi-serve coffee in a 1-liter bottle, 4-packs and coffee pods for pod brewers.
"We're also going to be getting into Super Coffee in 11-ounce cans," Martin said. The aluminum cans tap into another consumer hot button – sustainable packaging. The existing 12-ounce bottles are made with recyclable PET, he said.
"Now, with micro markets and convenience stores being kind of interchangeable in terms of product offerings, that's kind of the way the business is developing," he said. "There are a lot of micro market opportunities out there."
The company signed an agreement with Canteen's buying company, Foodbuy, in April 2017, he said. "One of the reasons that they wanted to bring it on is they saw opportunities within micro markets and pantries and all that stuff," he said.
In attending this year's National Automatic Merchandising Association show in Las Vegas, Martin observed the major push to "better for you" products, a trend that Kitu Life supports. "I think that we fit," he said.
While price point is high – Martin estimated the retail price for a 20- ounce bottle at $4 to $5 –some operators have found success with vending machines. One Denver operator found success at a post office and at an Air Force facility.
Martin also sees opportunity for the company in the single-serve liquid creamer business.
Certified Management Group LLC is representing Kitu Life nationally to the convenience services trade, Martin said. The products are in United Natural Foods Inc. as well as a number of Vistar warehouses, and the company is also working with the Unified Strategies Group buying cooperative.
For more information visit https://drinksupercoffee.com/
By Roger Stewart, Editor
---

Home | NEW PRODUCTS | Vending Newsletter sign up | Contact us | email press release
Also see: Beverages, Snacks, Foods, Brokers, Chips, Nuts, Energy bars, Fruit Snacks, Meat Snacks, Salty Snacks, Candy, Trail Mix, Gluten Free, Healthy Snacks, Pastries, Cookies, Crackers, Foods, Hispanic Snacks,
Also see: Product Brokers, Product Distributors, Micro Markets | Vending Companies USA
VENDING YELLOW PAGES DIRECTORIES:
Call us at 1-800-956-8363 or POST YOUR COMPANY, GET NEW BUSINESS!