KILL CLIFF IGNITE Made With Clean Caffeine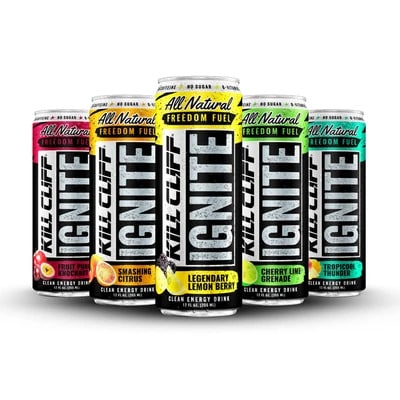 Do you have customers that are energy drink fans? If so, why not offer them KILL CLIFF IGNITE, a clean energy drink that doesn't have any added sugar or artificial sweeteners. 
Since the first energy drink launched over 30 years ago, times have changed. Consumers in the 2020s want energy drinks that don't have potentially 'unhealthy' ingredients while still tasting great at the same time. 
Thanks to IGNITE, an energy drink that's produced by KILL CLIFF, there is an FDA regulated energy drink on the market today that contains natural sweeteners like Stevia and Erythritol, sugar alternatives that are found in vegetables and fruits. 
IGNITE also has Ginger Root Extract, a powerful spice that also has antioxidant effects and anti-inflammatory properties as well. 
What About The Clean Caffeine? 
How does KILL CLIFF IGNITE live up to the promise of having 'clean caffeine'? The caffeine in this energy drink contains green tea extract, a powerful source of caffeine that won't leave consumers with a crash 1-2 hours after they consume it. 
With 150mg's of Green Tea Caffeine (equivalent to about 1 ½ cups of coffee), anyone who consumes it is going to get a nice dose of caffeine along with antioxidants like L-Theanine and plenty of B Vitamins like B12, B6, B3, and B2 as well. 
IGNITE also contains Asian Ginseng root extract, an herb that's been used in Chinese medicine for centuries because it helps to improve brain function, immune systems, and overall physical performance. 
Besides offering consumers a wide variety of benefits, IGNITE also offers magnesium and potassium, both natural minerals that help to aid our body's hydration and blood flow. 
The Right 'Anytime' Energy Drinks 
Developed by Todd Ehrlich, a former Navy Seal, KILL CLIFF IGNITE is an energy drink that's well-known around the world because it's consumed by anyone who wants to enjoy peak performance during their day without having to consume potentially harmful ingredients. 
To learn more about KILL CLIFF IGNITE, visit their website at https://killcliff.com/collections/ignite

By Jeremy Raglin, Editor-Content Writer
---

Home | NEW PRODUCTS | Vending Newsletter sign up | Contact us | SUBMIT PRESS RELEASE
Also see: Beverages, Coffee, Cold Brew, Snacks, Foods, Brokers, Chips, Nuts, Energy Drinks, Energy bars, Fruit Snacks, Meat Snacks, Salty Snacks, Candy, Trail Mix, Gluten Free, Healthy Snacks, Pastries, Cookies, Crackers, Foods, Hispanic Snacks,
Also see: Product Brokers, Product Distributors, Micro Markets | Vending Companies USA
VENDING YELLOW PAGES DIRECTORIES:
Call us at 1-800-956-8363 or POST YOUR COMPANY, GET NEW BUSINESS!